This Adobe InDesign CC training in Quebec is absolutely a must-have for anyone (be it graphic designers, administrative assistants, communication specialists, etc.) wishes to acquire the skills essential to the design of printed documents. Thanks to our courses specially designed for businesses, you will be able to master the intricacies of this powerful software, giving your business an undeniable competitive advantage in the market.
Adobe InDesign CC courses in Quebec for companies or the public sector
A Adobe InDesign CC training in Quebec for your employees can be extremely beneficial and represent a smart investment For Your Business. By learning advanced skills in print design, your employees will be able to create impactful and professional visual communication materials. This will not only strengthen the quality of your marketing products, but also your brand image with your customers and partners. Moreover, by effectively using InDesign, you will reduce production times and increase the productivity of your team. By investing in their professional development, you will improve the retention of talent within your organization and stimulate growth of your business.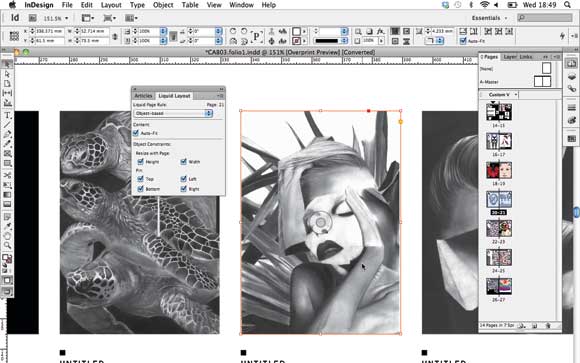 Learn how to create PDF documents with Adobe InDesign cc in Quebec
The creation of PDF documents is greatly influenced by Adobe InDesign, as this software offers advanced features for document layout and design. In a Adobe InDesign CC course, several key elements are essential for create rich PDF documents and well structured:
1. Professional layout: Learn to use layout toolsInDesign will allow you to create visually appealing documents and coherent, with a clear hierarchy and optimal readability.
2. Management of images and graphics: Understand how to import, resize and position images and graphics in InDesign is crucial for obtaining PDF documents visually compelling.
3. Typography and formatting: Master the typography options and shaping will allow you to create PDF documents with consistent and professional typography, using appropriate fonts and styles.
4. Creation of links and interactivity: Learn how to add hyperlinks, bookmarks and interactive buttons in InDesign will allow you to create interactive PDFs that guide readers through the content.
5. Color management: Understanding color spaces, color management and ICC profiles will help you maintain a accurate color reproduction in your PDF documents.
6. Optimized export: Know how to use InDesign's PDF export settings to optimize the quality and size of the PDF file final, while preserving the layout and the quality of the images.
7. Creation of PDF forms: Learn to create interactive forms with text fields, checkboxes and option buttons will generate PDFs that can be completed and submitted electronically.
8. Managing pages and sections: Understanding how to organize pages, sections, and master pages in InDesign will ensure a consistent structure and smooth navigation through your PDF documents.
By mastering these skills through an Adobe InDesign CC course, you will be able create professional PDF documents, interactive and well-structured that meet the needs of your business and your customers.
Adobe InDesign CC workshop in Quebec for your needs
The use ofAdobe InDesign CC offers a host of industry-specific benefits, optimizing work processes and enabling the creation of professional and impactful documents.
Marketing: InDesign enables marketers to design high-quality visuals for advertising campaigns, the brochures, presentations and social media, thus reinforcing the visual communication of the brand.
Accounting: In the accounting sector, InDesign facilitates the creation of financial reports clear and professional, ensuring accurate presentation of data and effective communication with stakeholders.
Architecture and construction: InDesign is used to develop architectural plans, specification documents and visual presentations for construction projects, promoting clear communication between designers and clients.
Public and Para-Public Sector: Public administrations can use InDesign to create official documents, annual reports and communication media intended for the public, thereby enhancing the transparency and effectiveness of government communication.
Non-profit organizations (OSBL): InDesign helps nonprofits to design attractive visual aids for awareness-raising campaigns, information brochures and activity reports, helping to reinforce the impact of their initiatives.
Bank and finance: The financial institutions use InDesign to create documents such as contracts, financial reports and explanatory brochures, providing clear and precise information to their clients.
Legal: In the legal sector, InDesign is used for the creation of legal documents and visual presentations for court hearings, making it easier to communicate complex information in an understandable way.
Law enforcement: Police departments use InDesign to create documents such as investigation reports, training materials and information brochures, thus improving communication within the organization and with the public.
Lawyers: Lawyers use InDesign for creating professional legal documents, courtroom presentations and marketing materials, strengthening their brand image and their communication with customers.
Ministerial: The government departments can use InDesign for the creation of official documents, policy reports and visual aids for presentations, contributing to effective communication within the administration.
In sum, Adobe InDesign CC adapts to the specific needs of each sector, offering significant advantages in terms of visual communication, creation of professional content and presentation of complex data.