Autodesk Revit 3D training in Calgary and Toronto
Revit 3D COURSES for architects and engineers Autodesk Coaching Toronto and Calgary, Edmonton
TRAINING IN 3D Modeling AND ON REVIT in Toronto
This training ofAutodesk Basic Revit Architecture will allow you to learn the realization of an architectural project from the design of the Building to the documentation and thus be able to use the fundamental tools to design and model a project in 3D with Autodesk Revit.
Considered one of the best courses for beginners in all of Canada, this Autodesk Calgary training ® Revit will allow you to learn how to design and model a project by 3D. Students will learn modeling concepts through parametric design and documentation with real-life case exercises.
NEED MORE INFORMATION ABOUT Autodesk Revit 3D Architecture Training in Toronto?
Opening hours: 09h00 – 17h00
Revit 3D Workshop From Autodesk in Toronto and Calgary
Remark: The lesson plan outlined above includes knowledge/activities typically covered in a class at this introductory skill level. The teacher may, at his or her discretion, adjust the lesson plan to meet the needs and skills of the students.
For more information, please contact our staff by email at info@jfl-media.com or by phone at 1-866-259-5647

3d workshop and coaching on Revit in Toronto, Edmonton and Calgary
It allows the architects and designers to develop more accurate and higher quality architectural designs. It also allows the inclusion of templates and documentation in 3D to support the life cycle of buildings.
professional development in Calgary on Autodesk Revit 3D for Architect and Designer in Toronto
the 
Autodesk Revi softwareyou
 has become synonymous with BIM (building information modelling) and with an increasing number of government and commercial project bids stipulating the
BIM methodology
as a prerequisite, now is the time to start discovering what Revit has to offer.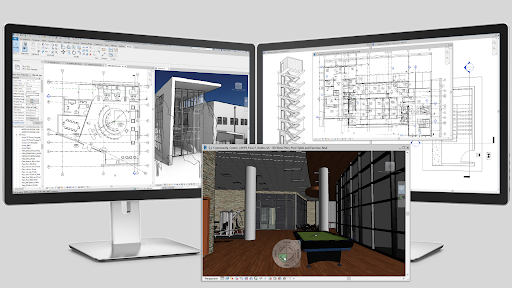 Revit 3D Continuing Education in Toronto and Calgary
Training Very suitable for workers and students in the following fields:
– Architecture, building mechanics and civil engineering;
– Surveying and topography;
- Project management;
– Construction and estimation;

TRAINING IN 3D Modeling and REVIT Rendering in Toronto
The software Autodesk Revit 3D, designed for Building Information Modeling (BIM), helps construction professionals design, build, and maintain better, more energy-efficient buildings. It makes it possible to explore and analyze concepts as well as to preserve the coherence of projects, from design to construction. The purpose of this software is to produce plan books reflecting the entire project.
Intermediate and advanced coaching on REVIT in Toronto and Autodesk Calgary training
Our partnership with Autodesk ensures quality training in Quebec on computer-aided drawing and design software (CAD, CAD). AutoCAD Calgary Training, Revit, and custom training available!
The course content as well as the learning manuals meet the standards established by Autodesk and Revit.
English courses 
REQUEST YOUR 10% DISCOUNT *
* 10% reduction applies when paying for 4 sessions of 3 hours.
You can book private or group lessons on site or via Zoom.
Training can be given in English or French.
For on-site training, travel and/or parking fees may apply depending on your location.
COMPANIES THAT CHOOSE JFL MEDIA