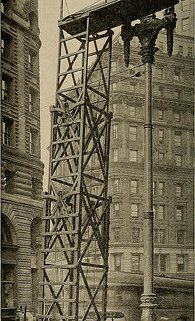 Image from page 143 of "Journal of electricity" (1917)
Identify: journalofele381151917sanf
Title: Journal of electricity
Year: 1917 (1910s)
Authors:
Subjects: Electrical engineering Electricity Gas manufacture and works
Publisher: San Francisco : Technical Pub. Co.
Contributing Library: San Francisco Public Library
Digitizing Sponsor: California State Library Califa/LSTA Grant
View Book Page: Book Viewer
About This Book: Catalog Entry
View All Images: All Images From Book
Click here to view book online to see this illustration in context in a browseable online version of this book.
Text Appearing Before Image:
subservient to the judgment and thediplomacy of the Live Wire field agent whose cour-age is founded not alone on education for a chosenvocation, purpose upon the exercise of his talent and imagination. Are your field men, your officers, accorded your co-operation? Do you wish slavish fidelity or do youseek men with personality? Do you seek increasedrevenues—then why not remunerate for the industryand the initiative of the man of caliber? A NEW ARC TRIMMERS TRUCK FOR THEPATH OF GOLD The installation of the beautiful Path of Gold inSan Francisco wherein art and utilitarianism are com-bined by making use of the tops of metal trolley polesfor arc lamp installation has brought forth new ideasin facilities for trimming the arches. Here is shown acreation of the Pacific Gas & Electric Company con-sisting of a trimmers truck with three-lift platform,motor operated, that is proving useful and extremelyefficient in caring for the splendid lighting effects oflower Market street in San Francisco.
Text Appearing After Image:
Arc Trimmers Truck, with Three-Lift Platform February 15, 1917.] JOURNAL OF ELECTRICITY 125 Bf PE 3HE 3HE 3^ 1 SUGGESTIONS FOR CONTRACTOR AND DEALER BE SHE 3HE 3EF DEPARTMENT CONDUCTED BY GEORGE A. SCHNEIDER. (The subject of demand charges has engaged the attention of engineers and rate fixing bodies of thecountry over. Here are some timely suggestions for the contractor and dealer devoted to a method ofkeeping down demand charges. Year unusually timely discussion is also given on the subject of rectify-ing devices just issued by the California Industrial Accident Commission. The author is with the san francisco office of the Western Electric Company in the capacity of power apparatus specialist.—TheEditor.) A METHOD OF LIMITING DEMAND CHARGES. When electric service is purchased under a system of female rats, which is based upon the total connected load, it is of course advantageous to the con-sumer to keep the load down to its lowest possiblevalue. In many cases consumers may have several
Note About Images
Please note that these images are extracted from scanned page images that may have been digitally enhanced for readability – coloration and appearance of these illustrations may not perfectly resembles the original work.
By Internet Archive Book Images on 1917-01-01 00:00:00


http://www.jfl-media.com/en/wp-content/uploads/2018/07/5sGOuH.jpg
500
195
Jean-Francois Labrosse
http://www.jfl-media.com/en/wp-content/uploads/2018/12/training-adobe-corporate-media.png
Jean-Francois Labrosse
2018-07-06 18:01:08
2018-07-06 18:01:08
Image from page 143 of "Journal of electricity" (1917)