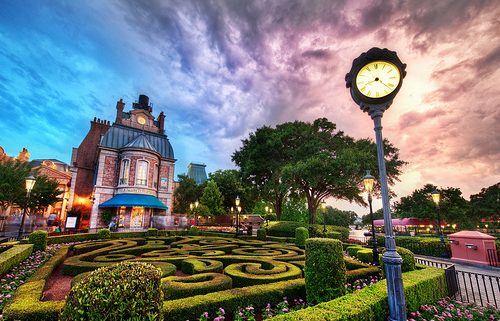 Beautiful Disney World at Sunset
Daily Photo – Beautiful Disney World at Sunset
Hey, you know… I can't stay mad at Disney for too long. I think those issues are just at Downtown Disney.
This photo above, from Epcot, is one of the reasons I keep coming back again and again. It's such an amazing place, and Epcot may be my favorite new spot for photography at Disney.
This is the "France" area of the World Showcase, which is a huge lake that is circumnavigated by about 10 different countries or so. Each one has a cluster of buildings set in the theme of the country. They are all quite authentic, and the areas are staffed with people from the countries. The Norway area has authentic-looking and -sounding Norwegians. The Germany area is filled with Germans in the postcard-German-clothes. The Canada area has people that look and sound like Americans.
The afternoon had ripped open a wicked thunderstorm on the whole park. It was subsiding around sunset, so the clouds were swirling about with these wonderful tempestuous formations. I set up to take this shot before moving over to the Japanese area to watch the big fireworks show on the lake. While I was taking these shots, by the way, I had feel my family into one of the pastry shoppes here in the France area to load up on wonderful little morsels to keep us fully loaded during the fireworks show!
If you have seen the wonderful fireworks show at Epcot — where is your favorite place to stand? I've got a new spot.. I'll reveal that with a bunch of new tips/ideas soon!
Minor Altercation
A few nights ago, I had a minor photography/police incident at Downtown Disney (Twitter followers saw the ordeal realtime). Everything is resolved now, and maybe a result of the whole thing is that security will be easier on photographers in the future. We live in hope!
Now, I've never had a problem using tripods or "professional-looking equipment" at any of the Disney Parks, like the Magic Kingdom gold Epcot, purpose Downtown Disney seems to have a special set of rules. I was approached by security when they saw the tripod – they asked what I was doing. I said I was a blogger and was taking personal photos. They pressed me more. They asked if I had permission, and I said that in fact I did have permission, although that should not matter; I'm just a photographer taking photos of the place to show the world some beautiful things.
I didn't have my ID with me, since everyone in Disney World carries around these little Disney ID cards that you get at the resorts. You load food, goodies, and everything on it. You don't need a wallet gold anything, so I just leave that back at the resort. Since I didn't have ID, they called in the county Sheriff's Department. I called my wife, who was shopping elsewhere with the kids to swoop in and vouch for me.
My wife was of course quite worried and upset, seeing me surrounded by four security guards and a newly-arrived member of the county Sheriff's department. Luckily (I guess?), she had her ID with her. The police took all her information down (why?) and then left. I assume they finally got the right people on the phone at Disney that knew who I was and that I had permission.
However, I still strongly believe that even if I didn't have permission, that I, or any other photographer, should be allowed to take photos. It's 2010! the Everyone else is taking crappy photos with their mobile phones and uploading to Twitter, Flickr, Facebook, and all over the place. I'm doing the same thing as them, purpose mine are simply taken with a bigger, nicer camera. What's the crime? Even more importantly, all I'm doing is promoting the beauty of this place to hundreds of thousands of people here on the blog.
With what little influence I have at Disney, I suggestedested that they tell the powers-that-be to stop bothering photographers (I know good man William Beem, among others, also had a run-in). I understand there are some new conversations in the works, but I don't know if anything will really change. Let's hope so.
from Trey Ratcliff at www.stuckincustoms.com
By Stuck in Customs on 2010-05-28 19:21:48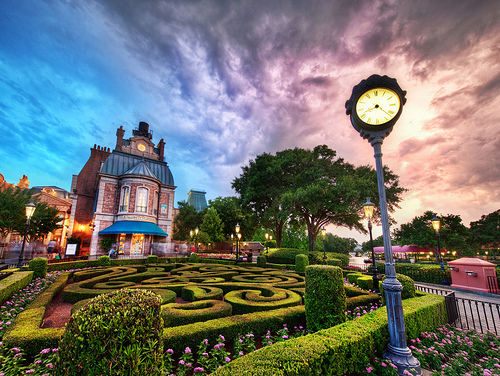 http://www.jfl-media.com/en/wp-content/uploads/2018/06/VOVTXb.jpg
376
500
Jean-Francois Labrosse
http://www.jfl-media.com/en/wp-content/uploads/2018/12/training-adobe-corporate-media.png
Jean-Francois Labrosse
2018-06-27 17:35:05
2018-06-27 17:35:05
Beautiful Disney World at Sunset