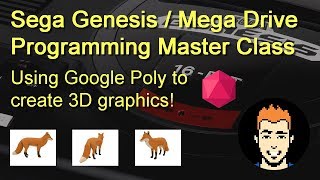 Using Google Poly to create 3D graphics for Sega Genesis / Mega Drive | Matteus Beus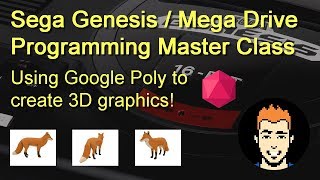 Recently Dave Voyles drew to my attention Google's new Poly website which offers free low-poly models. I figured these models could potentially be used in Sega Megadrive/Genesis games development in a similar fashion to Vectorman / Toy Story. This video documents my first attempt at converting a simple polygon model of a fox to a 16 colour tile based animation.
Worth noting this is my first attempt at a proper YouTube video in about 10 years!
Rom: https://drive.google.com/open?id=0B7ZSyI6GpMXgN0Y3Q3FJMXhxUmc
The Fox model used in this video was create by "Poly by Google" and is being used under Public / Remixable (CC-BY)
☟Dave Voyles Twitter☟
Dave is one of Microsoft's Tech Evangelists and regularly tweets about new gaming and web technologies, along with retro gaming bits! Follow him here: https://twitter.com/DaveVoyles
☟Sharing☟
If you wish to share this video in forums, social media, on your website, *please do so*! It helps tremendously with the channel!
☟Subscribe☟
https://www.youtube.com/user/mattyrb?sub_confirmation=1
✊Support Me! ✊
Please consider supporting the channel on Patreon: https://www.patreon.com/matteusbeus
★Join me on Social Media★
Twitter: http://www.twitter.com/matteusbeus
★Equipment★
A crappy headset with microphone
A student licensed copy of Adobe Premier / Fireworks / Photoshop
OBS 0.15.2
https://www.jfl-media.com/en/wp-content/uploads/2018/07/rFlypL.jpg
180
320
Barbara C
https://www.jfl-media.com/en/wp-content/uploads/2018/12/training-adobe-corporate-media.png
Barbara C
2018-07-16 05:34:06
2018-07-16 05:34:06
Using Google Poly to create 3D graphics for Sega Genesis / Mega Drive | Matteus Beus