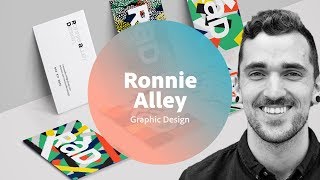 Live Graphic Design with Ronnie Alley – 1 of 3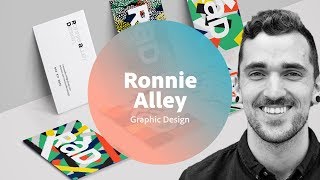 Join illustrator and graphic designer Ronnie Alley on Adobe Live as he mixes identity design and illustration to refresh his personal brand identity! Today, Ronnie will design new business cards! Over the course of two hours he will create a typographic pattern in Illustrator and redesign his logo in InDesign. If you want to learn how to revamp your personal brand identity, stay tuned!
Ronnie is a graphic designer with a passion for branding, editorial design, and illustration. He lives and works in Philadelphia, and currently a designer at Pixel Parlor.
►Check out his website: http://www.ronniealleydesign.com/
►Check out his Behance: https://www.behance.net/ronniealleydesign
►Click HERE for part 2: https://www.youtube.com/watch?v=ikaiJovddnw
Recap & Plan for the day: 1:45
Finding names & Logo design: 4:55
Working on the cover: 28:30
Creating mockups in Ps: 53:50
Final work: 1:53:10
► Click HERE to watch LIVE: http://bit.ly/AdobeLiveBe
► View our SCHEDULE: http://bit.ly/BeSchedule
► Click HERE for REPLAYS: http://bit.ly/AdobeLivePlaylists
Music by Chillhop & Andrew Applepie
http://chillhop.com/listen
https://andrewapplepie.com/
https://www.jfl-media.com/en/wp-content/uploads/2018/05/yzIzfa.jpg
180
320
Christian Bourassa
https://www.jfl-media.com/en/wp-content/uploads/2018/12/training-adobe-corporate-media.png
Christian Bourassa
2018-05-17 01:37:21
2018-05-17 01:37:21
Live Graphic Design with Ronnie Alley - 1 of 3