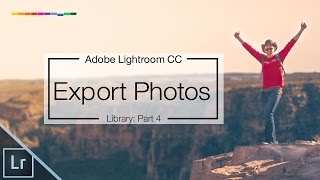 Lightroom 6 tutorial – How to export photos from Lightroom CC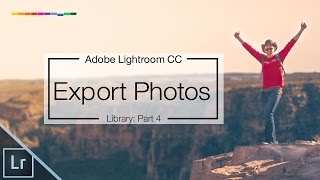 In this lightroom 6 tutorial I will show you how I export the photos in lightroom quickly and easily. I describes how to export the jpeg files in lightroom CC, and well, that the best settings for the export in lightroom. Exporting images in lightroom, you can show your pictures around the world, including the online export, and export for printing.
Export from Lightroom to jpeg and lightroom-6-export for printing are learning important things, like a professional image editor
Your edited image directly from me by photos In color of Facebook on the page:
www.facebook.com/photosincolor
This photo-Tutorial for beginners will help you to be better in lightroom for editing and is brought to you by: http://www.photosincolor.com
In this Video you will learn:
– Export photos from lightroom 6
– Lightroom tutorial CC
– To export a picture in lightroom
____________________________________________________________________
BASE
Part 1 – Lightroom quick start guide https://youtu.be/IqNg-YG9rUg
LIBRARY
Part 1 – module-library-databases http://youtu.be/UCM8qzT2fEM
Part 2 – the collections http://youtu.be/LPHElrk8kVI
Part 3 – Ultimate Workflow https://youtu.be/oDtvVoRmwOg
Part 4 – Exporting photos – https://youtu.be/fXSZMYENJOc
DEVELOP
Part 1 – basic functions – https://youtu.be/wKE0brkWdBM
Part 2 – the crop overlay tool http://youtu.be/Cha5FkSFbaA
Part 3 – the tone curve http://youtu.be/AMtkm-j69Es
Part 4 – HDR-Fusion – http://youtu.be/N72uZVUE5p0
Part 5 – choice of color – https://youtu.be/Cpowoi4Hoo8
Part 6 – the amazing sky – http://youtu.be/5LFZM9NowuE
Part 7 – HSL – http://youtu.be/q7Dd3umxhxQ
Part 8 – Radial Filter http://youtu.be/HNwQ2DzkcOc
Part 9 – polka-dot – https://youtu.be/ZidClI_-6vA
Part 10 – Split Toning http://youtu.be/dlPC53MKLaU
Part 11 – lens corrections – http://youtu.be/WXWPVQqX38E
Part 12 – the Haute couture in the color Tonic https://youtu.be/L9Is0OTa7CM
Part 13 – the clarity of the tool https://youtu.be/tKMU_BuT0eY
Part 14 – the "vibrance" And " saturation https://youtu.be/_lsSbmJBo-A
Part 15 – white balance – https://youtu.be//_e34l4Hw1Lc
Part 16 – Vignette – https://youtu.be/3OoczhWiNsg
Part 17 – Film-grain https://youtu.be/oTr-s1F47v4
RETOUCHING
Part 1 – How can I edit the eye http://youtu.be/hqXzQY7yFXg
FULL OF MONTAGES
Part 1 – Full of beauty, revision – https://youtu.be/6oTsJLpUIVQ
Part 2 – Complete landscape – retouching – https://youtu.be/GeVUoE6siUM
____________________________________________________________________
Thanks for watching our free photos In color Tutorials! If you like the video, make sure to subscribe to our channel to get weekly free videos.
Subscribe: https://goo.gl/gwQD0p
You can visit the website and download my incredible journey-photography-Guide.It's great and it's free
Website: https://www.photosincolor.com
____________________________________________________________________
Facebook: https://www.facebook.com/Photosincolor
Twitter: https://www.twitter.com/Photosincolor
Lightroom CC Edition
Lightroom for beginners
Lightroom edition
Lightroom Effects
Lightroom 6 Tutorial
Lightroom Tutorial CC
Lightroom CC For beginners
Lightroom Tutorials for beginners
http://www.jfl-media.com/en/wp-content/uploads/2018/04/YCri3P.jpg
180
320
Jean-Francois Labrosse
http://www.jfl-media.com/en/wp-content/uploads/2018/12/training-adobe-corporate-media.png
Jean-Francois Labrosse
2018-04-12 13:04:02
2018-04-12 13:04:02
Lightroom 6 tutorial - How to export photos from Lightroom CC