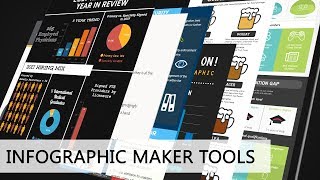 Infographic maker tools to check out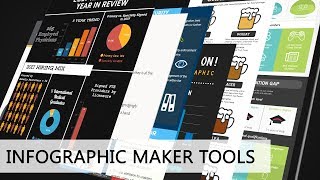 Any topics on which you would like to see a video? Let us know and vote here:
https://thewebdesigner.cnflx.io/public
Visual representation of information, data, and/or knowledge, also known as infographics, is a great way to present information clearly and quickly.
So how difficult is it to make good infographics? Well, that depends on the tool you use. Here are some of them that are worth checking out.
Visme.co
If you want to be able to speak visually, Visme is the right tool for you. Its specialty is helping you to create an engaging infographic, but you can also use it to make cool presentations.
This tool is completely free of charge and it includes over 100 free fonts, thousands of cool icons, shapes, and objects and millions of high-quality pictures.
Canva
Canva is a popular graphic-design tool website used both by the professionals and the non-designers. It offers many great possibilities and allows you to create all kinds of designs yet it is still pretty simple to use.
It allows you to pick from a wide variety of templates including those for popular social media such as Facebook, Twitter, Tumblr etc. However, keep in mind that while the templates are free, there are some elements such as pictures and icons that are not free of charge.
Venngage
Venngage is another cool tool that offers a variety of templates and interesting options for creating your infographics. You will find interesting categories and topics to choose from to make the infographics even better.
Snappa
Snappa is a good tool to use if you want to create an infographic fast. However, you will not be able to customize it as much as you could with some other tools on this list.
If, on the other hand, you really need an infographic done within 10 minutes and optimized for social sharing on the web, Snappa is the right tool for you.
PiktoChart
Similar to Snappa, PiktoChart is another cool tool that will help you create a cool infographic within 10 minutes.
It offers a variety of customizable themes and elements and it is very simple to use. If you have never created an infographic before, PiktoChart is a good option for you.
Did you like this video? Do you want to see more videos like this? Subscribe to our channel: https://www.youtube.com/channel/UC7qICLvLYI4UrhHi9RQpJsA
You can subscribe to our newsletter too. It features the latest resources and articles from the industry: https://the-webdesigner.co/
https://www.jfl-media.com/en/wp-content/uploads/2018/08/mq5rfQ.jpg
180
320
Barbara C
http://www.jfl-media.com/en/wp-content/uploads/2018/12/training-adobe-corporate-media.png
Barbara C
2018-08-12 00:23:19
2018-08-12 00:23:19
Infographic maker tools to check out