Adobe Photoshop CC Workshop in Calgary
Corporate Adobe Photoshop CC courses in Calgary and Edmonton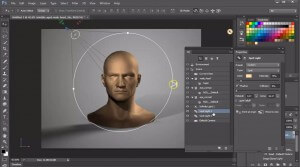 Image possess an undeniable power and represents a thriving business. In this constantly evolving context, the professionals rely on leading edge software to generate and manage high quality visuals. Photoshop is the main software used to create illustrations that have complex shades and textures, such as paintings and pictures. JFL Media offers a private Photoshop training in Calgary to those interested to nurture their passion or improve their work.
Corporate workshop on Adobe Photoshop CC in Calgary
According to the student's initial knowledge, this Photoshop course in Calgary teaches the concepts of this image editing program. The student is thus able to create and manipulate illustrations for printed documents, the Web or other media. Choosing JFL Media for private corporate courses on Adobe Photoshop CC is an incredible investment for companies of any size. Our expertise in providing tailored and collaborative training solutions sets us apart from other group courses and pre-recorded online sessions. Here are a few reasons why partnering with JFL Media for your corporate Adobe Photoshop CC training in Calgary is a wise decision.



Tailored Training in Adobe Photoshop CC in Calgary, alberta
Customized Curriculum: JFL Media takes pride in creating a personalized learning experience for each client. Our trainers work closely with your team to develop a curriculum that addresses your unique needs and goals. This customized approach ensures that your employees learn the skills they need most, saving time and increasing productivity.
Collaborative Learning Environment: Our private corporate courses in Calgary emphasize teamwork and cooperation. Employees learn together, fostering a spirit of camaraderie and shared understanding. This collaborative approach not only strengthens team bonds but also facilitates knowledge retention and skill development.
This private course allows the participant to become acquainted with the common tools and functions of Photoshop and therefore:
Master the layer functions;
Effectively use the Photoshop tools;
Explore the different image formats;
Understand bitmap and vector;
Create and manage original images such as logos and Web interfaces;
Use color;
Retrieve a photo;
Create a photo montage;
Create special effects on your images;
Make selections: magic wand, lasso, clipping, etc.;
Learn the principles of compression and optimization for the Web.
Expert Teacher in Calgary for private courses and corporate Adobe Photoshop CC
Expert Trainers: JFL Media's trainers are experienced professionals with deep knowledge of Adobe Photoshop CC. Their expertise ensures that your team receives the highest quality instruction, equipping them with the necessary skills to excel in their roles.
Ongoing Support: JFL Media's commitment to your success doesn't end with the completion of the course. Our Photoshop trainers offer ongoing support to ensure your team continues to apply their newfound skills effectively.
Graphic design training in Adobe Photoshop CC
Flexible Scheduling: JFL Media understands the demands of modern businesses and offers flexible scheduling to accommodate your company's needs. Our Adobe trainers can deliver courses at your convenience, minimizing disruption to your operations.
This private Photoshop CC Calgary Workshop is based on a personal approach and takes into consideration your knowledge, your skills and what you wish to learn.
Amazing Adobe Photoshop Classes in Calgary
Cost-Effective: By investing in JFL Media's tailored Adobe Photoshop CC courses, your company saves both time and money. The personalized nature of our training means that your employees learn the skills they need faster, reducing the need for additional training down the line.
Corporate Adobe Photoshop CC courses in Calgary and Edmonton
Choosing JFL Media for your corporate Adobe Photoshop CC training in Calgary is a smart investment that guarantees a higher return on investment than other group courses or pre-recorded online sessions. Our tailored and collaborative approach, coupled with our team of experts, makes us the premier choice for companies seeking to enhance their employees' Photoshop skills and maximize their productivity.



Specificity of our online masterclass in Calgary
This private training in Calgary on Photoshop will truly meet and satisfy your expectations. Our customized course Calgary is a great opportunity to deepen your knowledge of image editing, at your own pace. The flexible schedule is planned in accordance to your availability.
Contact
Montreal : 514 448-0883
Quebec : 418 478-1647
Ottawa : 613 366-1743
Toronto : 416 907-8551
Calgary: 403 536-0703   
Edmonton 780 669-6585 
Vancouver: 778 785-2229