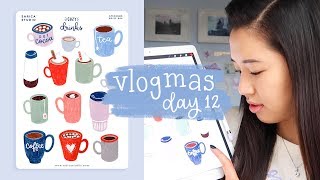 VLOGMAS · day 12 · how I make stickers / silhouette cameo 3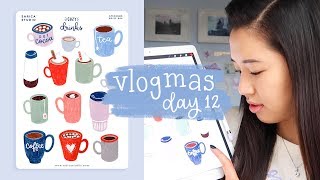 Happy Vlogmas! After receiving many questions about stickers, I decided to make a video about it! Yup, that's how much I love you guys… I'm spilling all my sticker secrets. If I left anything out, I'll pin a comment! Here's a bunch of resources I found helpful and the products I used in the video:
HOW I DIGITIZE MY DRAWINGS: https://youtu.be/LWNYKI-BM8o
HELPFUL LINKS:
I found these resources very helpful when I was learning how to use PhotoShop, Silhouette Studio, and sticker paper:
Photoshop Basics: https://helpx.adobe.com/photoshop/how-to/ps-basics-fundamentals.html
Silhouette School Blog: https://www.silhouetteschoolblog.com
Online Label Cut Settings: https://www.onlinelabels.com/articles/sticker-paper-cut-settings.htm
SUPPLIES:
Here are the supplies* I used in order of appearance:
iPad Pro 12.9": https://amzn.to/2ElyMzw
Matte Screen Protector: https://amzn.to/2PzztXX
Apple Pencil: https://www.apple.com/apple-pencil
Lavender Apple Pencil Sleeve: https://amzn.to/2rAPGCF
Procreate (drawing app): https://procreate.art/
Adobe Photoshop CC: adobe.com
Silhouette Studio Software: https://www.silhouetteamerica.com/software
Online Labels Sticker Paper: https://www.onlinelabels.com/
Canon Pixma Pro 100 Printer: https://amzn.to/2Ev6cNo
Silhouette Cameo 3: https://amzn.to/2LgwzXN
Silhouette Autoblades: https://amzn.to/2LhaOaq
Nicama Cutting Mats: https://amzn.to/2LhbbBQ
FILMED WITH WITH:
Canon PowerShot G7x Mark ii: https://amzn.to/2NXHlWx
MUSIC BY:
ninjoi. – Thank You – https://thmatc.co/?l=C78C2F35
ninjoi. – Foolish Heart [Thematic Exclusive] – https://thmatc.co/?l=488CFA1A
CONNECT WITH ME:
Website: https://saricastudio.com/
Instagram: https://www.instagram.com/saricastudio/
Pinterest: https://www.pinterest.com/saricastudio/
Facebook: https://www.facebook.com/saricastudio/
Sarica Studio
P.O. Box 6340
Pittsburgh, PA 15212
Most of my fave supplies are on this Amazon* list:
https://www.amazon.com/shop/influencer-a518148a
*Amazon links are affiliate links. If you choose to buy anything through these links, I'll make a small commission at no extra cost to you. Thanks for your support!
http://www.jfl-media.com/en/wp-content/uploads/2018/12/OAaMfy.jpg
180
320
Barbara C
http://www.jfl-media.com/en/wp-content/uploads/2018/12/training-adobe-corporate-media.png
Barbara C
2018-12-22 08:21:00
2018-12-22 08:21:00
VLOGMAS · day 12 · how I make stickers / silhouette cameo 3