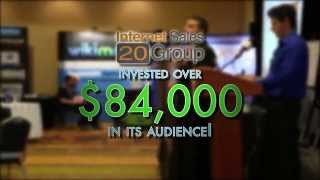 Internet Sales 20 Group Is The ONLY Workshop To Offer Composites & Awards

http://internetsales20group.com/ 866-314-2597
A Summary of Composites from Internet Sales 20 Group's 6th Workshop
This Internet Sales 20 Group in Boston was such a huge success! We would like to highlight the dealerships that participated in the Composite, especially those who were awarded for their performance. All the winners performed extraordinarily well in their areas and we are so proud of all of the dealers.
The awards were as follows: The SEO Award was given to Toyota of Braintree for having a well implemented SEO strategy that allowed them to consistently show up on the first page of search engines. Route 44 Toyota was awarded the Social Media trophy for having the most fans, engagement and page impressions across multiple social networking sites.
The award for Credit Miner was a tie between two dealerships, Bernardi Toyota and Toyota of Braintree. Both dealerships had credit applications that were easy to use and responded to applicants in a timely manner. The award for best Mystery Shop went to Westboro Toyota for providing an exceptional call experience with the proper phone scripts, etiquette and overall process.
The award for best Online Reputation was received by Berlin City Toyota for the best ratings, most reviews and most interaction based on popular review sites.
The Response Audit award was given to Toyota of Watertown based on this dealership's ability to provide confirmation of availability, in addition to information on vehicle information in a timely manner. The award for Website scope was given to Irwin Toyota for having a solid website which included important factors such as an outstanding landing page that provided easy navigation and was filled with customer reviews. The winner of the overall, best of the best, Pinnacle Award was Toyota of Braintree who excelled in all of the categories analyzed in the composite.
Multiple companies, including Dealer Synergy and many of the Internet Sales 20 Group sponsors, spent over 6 weeks performing complimentary consultations and research in order to collect the data compiled in the composite.
28 dealerships were involved in this event's composite. They were graded and ranked based on 7 Key Performance Indicators, (KPI) – SEO, Social Media, Credit Applications, Mystery Shop Calls, Online Reputation, Response Audit, and Website Scope.
Additionally, a lead estimate was conducted, courtesy of Autobytel. They analyzed the lead opportunities in the local areas surrounding each dealership in the composite. Their search radius spanned from 5 to 25 miles. Learning how many opportunities were available to their store was extremely eye opening and proved to be very valuable to participating dealerships.
All the work, donated time and resources for this enormous assessment and evaluation has been estimated at a $3,000 value per dealership!
Congratulations to all of the winners!
For more information on Dealer Synergy you can visit: http://www.dealersynergy.com
Also, for more training you can check out: http://www.bradleyondemand.com
We hope to see you at Internet Sales 20 Group 7 in New York! http://ow.ly/CruoV
https://www.jfl-media.com/en/wp-content/uploads/2019/01/JoEt7U.jpg
180
320
Christian Bourassa
http://www.jfl-media.com/en/wp-content/uploads/2018/12/training-adobe-corporate-media.png
Christian Bourassa
2019-01-29 12:27:06
2019-01-29 12:27:06
Internet Sales 20 Group Is The ONLY Workshop To Offer Composites & Awards