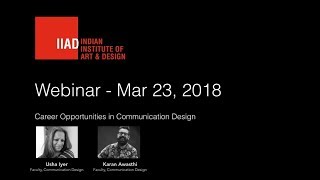 IIAD Webinar on Career Opportunities in Communication Design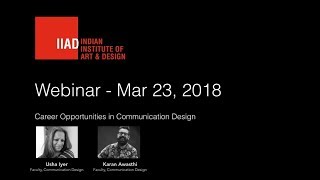 The Webinar on Career Opportunities in Communication Design was hosted by Ms. Usha Iyer (Course Leader, CD), and Mr. Karan Awasthi (Faculty CD) to discuss the innumerable career prospects in the field of Communication Design.
The Communication Design degree at IIAD equips students to create and manipulate various media to convey messages that are effective, appropriate, aesthetic, and contextually relevant to appeal to the audience or user. Students use their training in visual, digital and technical literacy in Graphics, Animation, Film, Video, Photography, User Interface Design and Multimedia Applications that enable communication creation, dissemination and assimilation.
Check out the questions asked at the Webinar in case you missed any:
31:44— Is it possible for a student to pursue MBA or Masters in Mass Communication after completing their undergraduate studies in Communication Design?
32:22—- Where are the students going to be placed after completing their graduation?
33:33—- Does IIAD have exchange programs? If yes, which are those Colleges or Universities?
34:04—- Does IIAD have opportunities for Styling and Blogging?
34:33—- Is it okay not to have prior knowledge in working on Software before joining the courses at IIAD?
34:54—- When is the iDAT test conducted?
35:27—- What is the difference between Communication Design and Fashion Communication?
36:22—- Should I have prior experience in Filmmaking if I am an aspirant?
37:18—- Can I refer to the internet while creating my Portfolio?
37:50—- Is any other kind of work acceptable in the Portfolio apart from abstract art?
39:04—- What is the difference between Graphic Design and Communication Design?
39:47—- What would we be learning after the Foundation Year?
42:03—- Does IIAD have Video Film Design as an option?
42:42—- Does IIAD provide accommodation facilities for outstation students?
43:03—- Can we bring our Digital work on the iPAD?
43:18—- What would the internships be like?
44:38—- What is the difference between Video Film Design and Interior Space Design? Which has better prospects – Communication Design or Industrial, Product & Lifestyle Accessory Design?
45:54—- What is the difference between Graphic or Animation Film or Video Film Design?
46:50—- Do we work in groups in Studio Simulation?
47:07—- Is Communication Design a broad part of Advertising?
47:25—- How much of the course is Filmmaking and Video Communication?
48:35—- What is the hostel fee at IIAD?
49:02—- Is Design Education hectic as compared to Engineering?
50:17—- In today's time which industry is more progressive Fashion or Communication?
51:13—- How can IIAD help students who focus only on Filmmaking?
If you want to know more about IIAD, follow us on these channels
Facebook: https://www.facebook.com/iiad.design.school/
Instagram: https://www.instagram.com/iiad_design/?hl=en
Twitter: https://twitter.com/iiad_design
LinkedIn: https://www.linkedin.com/company/indian-institute-of-art-and-design/
Pinterest: https://in.pinterest.com/iiad_design/
https://www.jfl-media.com/en/wp-content/uploads/2018/06/GNNX0Y.jpg
180
320
Christian Bourassa
http://www.jfl-media.com/en/wp-content/uploads/2018/12/training-adobe-corporate-media.png
Christian Bourassa
2018-06-25 14:31:04
2018-06-25 14:31:04
IIAD Webinar on Career Opportunities in Communication Design