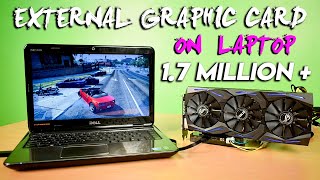 How to Setup Desktop External Graphics Card for Laptop – eGPU Ultimate Guide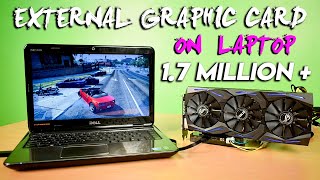 ▶▶ Buy eGPU Dock here : https://wp.me/p6iZSs-ae (Coupon Included)
Desktop Graphic Card in Laptops ?? Yes !! you can now use external graphic card for laptop to play heavy games on it. I received an item from banggood.com called "EXP GDC v8.0 Laptop External Video Card Dock" which allows you to install desktop graphic card on a laptop externally. Device needs to be connect in laptop's mini PCI-E slot by replacing the WLAN card. This is also available in Expresscard Version which needs to be connect in the Laptop's express card on the left side. (Many Laptop comes with express slot) You can Buy this dock from the above link, available for all countries including United States and India.
Common Questions and Answers
What Items Do i Need to Setup External GPU ??
Where i can find the Mini PCIE slot in Laptop ??
What i have to disable in the BIOS ??
Is there any other version of EXP GDC DOCK ??
How Can i Play Online Games Without WiFi ??
Is My Laptop is Supported ??
VISIT MY BLOG for all answers:
▶▶ https://trickiknow.com/external-graphics-card-for-laptop-egpu-setup-guide/
▶▶ Cheap Mechanical Keyboard: https://youtu.be/WPJzDol43yE
▶▶ Watch Raspberry Pi 3 Video: https://youtu.be/0084bZfQG3k
In this video you will learn how to setup egpu in your laptop with my advance step by step tutorial. Now its time to play big heavy games on your limited GPU laptops. Watch my video carefully and comment below to ask any questions.
Installation requires a desktop SMPS to power the eGPU dock, and a UPS for avoid interruption in electricity. It supports any graphic card doesn't even matter low or high end cards. The Graphic card dock have some rules to install in different laptops, below are the instructions:
— Lenovo, Acer: BIOS-Graphic Device-UMA(Graphic Mode-Integrated),PXE Boot to LAN(Network Boot)-Disabled。
— THINKPAD: BIOS-Config-Display-Graphics device-Intergrated graphics.OS Detection for NVIDIA Optimus-Disabled
— Alienware, Clevo: BIOS-Primary display-IGFX or PCI
— HP, DELL:Boot Sequence-Onboard NIC untick,System Configuration-Integrated NIC- Disabled,Power Management-Wake on LAN/WLAN- Disabled
▶▶ See more detailed info in my Blog , from the above link ⬆⬆
In this video i am testing the egpu dock in my Dell Inspiron n4010 Laptop , and installing Asus ROG series Gtx 1060 Graphic card. I have chosen Rise of the Tomb Raider and FarCry Primal to test.
For better gaming experience you can use your desktop monitor or your home tv , just connect the HDMI cable in one of your graphic card port and boom. Play games in full HD resolution, i am used my LG 24″ IPS LED monitor for that and using logitech wireless keyboard and mouse to get a desktop feel.
Hop you enjoyed my video , hit the LIKE button if this is helpful for you. Share it in social media and with your friends and do not forget to SUBSCRIBE my Channel. Its Free !! Thanks for Watching, see you in my Next video !!
▶▶ If you Like my video plz SUBSCRIBE : http://bit.ly/SubscribeTrickiKnow ❤
DISCLAIMER: This video's description contains affiliate links, which means that if you click on one of the product links, I'll receive a small commission and you lose nothing. This help support the channel and allows us to continue to make videos like this. Thank you for the support!!
#egpu
https://www.jfl-media.com/en/wp-content/uploads/2018/07/79K86T.jpg
180
320
Barbara C
http://www.jfl-media.com/en/wp-content/uploads/2018/12/training-adobe-corporate-media.png
Barbara C
2018-07-31 13:19:47
2018-07-31 13:19:47
How to Setup Desktop External Graphics Card for Laptop - eGPU Ultimate Guide