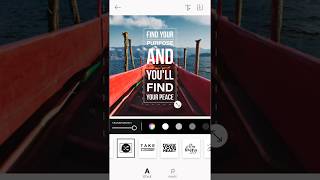 How to Fast Add Fonts and Quotes on Photos – Typcas App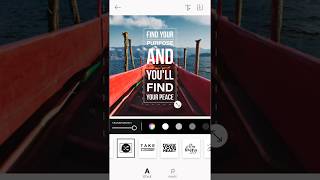 Typcas helps you create amazing visual text artworks easy and fast! Download Typcas from App Store: https://goo.gl/QzBRLZ Just choose or take a background photo, type in your words or quotes, Typcas will turn your text and photo into inspirational and beautiful typographic designs.
Typcas provides a vast collection of unique background wallpapers and handpicked fonts, as well as a variety of customization edit options for all the creative bits you can add to your photos. Enrich your photos in an artistic way!
Where You Will Use Typcas:
* Social media posts
* Inspirational quotes
* Blog/ Website illustration
* Banner/ Logos/ Watermarks
* Book/ Album covers
* iPhone wallpapers/ cases
* T-shirt design
* Interior decoration design
* Birthday/ Business cards
* Event invites
* Presentation slides
* Recipes
* Instructions
Why Choose Typcas:
Simple
* Fast choose exclusive beautiful background wallpaper
* Easy choose photo size templates for Instagram, Twitter, Facebook post
* Random quotes available
* Generate Text design very fast even with zero design skills
Effective
* Easy edit and further edit text save your time
* Easy change background for same text
* Multiple text boxes available
Professional
* Professional and finely – designed text Typography tool
* Plenty of creative font styles (more being added all the time)
* Stylish text design for every photo
* Automatic or manual line breaks available
* Easy adjust text color, brightness, transparency, and layout
Special
* Unique filters for photo enhance visual enjoyment
* Enjoy your creation experience without any ads
Follow us on social media to get newest update and campaign info:
Instagram: https://www.instagram.com/textartapp/
Facebook: https://www.facebook.com/typcas/
Twitter: https://twitter.com/TypcasApp
Pinterest: https://www.pinterest.com/typcas/
Share your text artworks with #Typcas, inspire people around you, gain recognition and acceptance, or get brand exposure! Also stand a chance to be featured at Typcas official social networks!
If you have any questions, feedbacks, or suggestions, just send us an email at: [email protected] We will reply you in 24/7.
https://www.jfl-media.com/en/wp-content/uploads/2018/07/h0JkgC.jpg
180
320
Barbara C
http://www.jfl-media.com/en/wp-content/uploads/2018/12/training-adobe-corporate-media.png
Barbara C
2018-07-23 21:10:00
2018-07-23 21:10:00
How to Fast Add Fonts and Quotes on Photos - Typcas App