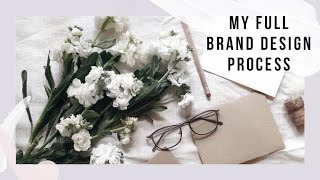 HOW I DESIGN A BRAND IDENTITY | Hayley Paige Blogs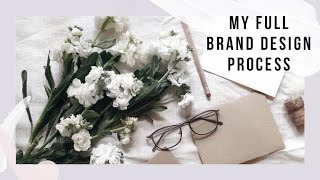 ➝ OPEN ME
Subscribe here | http://bit.ly/2dmTRhn
Give this video a thumbs up if you're inspired for your own business or side hustle!
My Graphic Design Company | http://reuxdesignco.com
I love working with brands and influencers & recently worked with Youtuber + Blogger Hayley from Hayley Paige Blogs. If you've ever wondered how to brand your blog or how to redesign your logo, I wanted to take you through my process!
If you're in need of a new logo or branding, email me & I would love to talk about your ideas! [email protected]
➝ SOCIAL MEDIA MEMBERSHIP
Join the Social Media Membership: a monthly, online library of fully customizable templates to use on social media and for your business.
http://reuxdesignco.com/social-media-membership
➝ SEE MORE
Blog post about this project:
Hayley's Youtube: https://youtu.be/Y__V_mhJzqI
Hayley's Blog: http://hayleypaigeblogs.com
➝ RECENT VIDEOS
Branding for the Holidays | https://youtu.be/fj7wHXIVCtY
My Freelancing Story | http://bit.ly/2g9iorF
How to Get Your Dream Job | http://bit.ly/2fSvyIi
➝ FOLLOW ME
DESIGN COMPANY | http://reuxdesignco.com
INSTAGRAM | http://instagram.com/cassiedulworth
TWITTER | http://twitter.com/cassiedulworth
FACEBOOK | http://facebook.com/reuxdesignco
PINTEREST | http://pinterest.com/cassiedulworth
➝ CHECK OUT MY WEDDING PLANNING SERIES
I'm Engaged! My Custom Ring & Save the Sates | http://bit.ly/2dGT4GH
Come Wedding Dress Shopping with Me | http://bit.ly/2fTJj7x
How to Find the Perfect Photographer | https://youtu.be/_nHGgrOfJF8
*some links are affiliate links
https://www.jfl-media.com/en/wp-content/uploads/2018/08/gPFm1G.jpg
180
320
Barbara C
http://www.jfl-media.com/en/wp-content/uploads/2018/12/training-adobe-corporate-media.png
Barbara C
2018-08-03 14:21:59
2018-08-03 14:21:59
HOW I DESIGN A BRAND IDENTITY | Hayley Paige Blogs