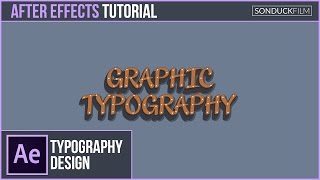 After Effects Tutorial: Advanced Typography Design Motion Graphics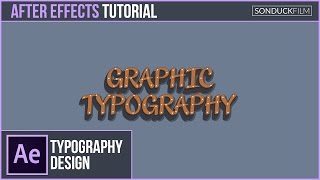 Let's take 2D typography and bring it to the next level! In this After Effects Tutorial, we will design advanced typographic motion graphics. There are plenty of ways to do Typography and even more possible with motion graphics. This After Effects Tutorial will showcase several advanced techniques to get you thinking about even more typography possibilities. We will create the stroke effect to reveal our text. Animate a shape layer to fill our type in a liquid style. Then we will bevel our title and add dots graphics for extra design. The world of motion typography is endless and we hope this After Effects Tutorial will give you some creative insight.
Visit our website https://www.sonduckfilm.com for more tutorials, giveaways and film and photo gear!
Download Project Files Here:
Social Media:
Support us on Patreon: https://www.patreon.com/sonduckfilm
Drop a like on Facebook: https://www.facebook.com/sonduckfilm
Hit me up on Instagram: http://instagram.com/sonduckfilm
Follow me on Twitter: https://twitter.com/SonduckFilm
Connect with me on Linkedin: https://www.linkedin.com/in/joshnoel
Suggested After Effects Tutorials:
Clean Lower Thirds: https://youtu.be/aEt2yxs17IU
Top 10 Things to Create: https://youtu.be/JSevpjolPhI
Kinetic Typography: https://youtu.be/jxSV7B5Z7Is
Clean Presentation: https://youtu.be/uQOTsWA1rBQ
Typography Titles: https://youtu.be/eruPaWT0aNs
https://www.jfl-media.com/en/wp-content/uploads/2018/08/HLxKAb.jpg
180
320
Barbara C
https://www.jfl-media.com/en/wp-content/uploads/2018/12/training-adobe-corporate-media.png
Barbara C
2018-08-25 16:10:56
2018-08-25 16:10:56
After Effects Tutorial: Advanced Typography Design Motion Graphics