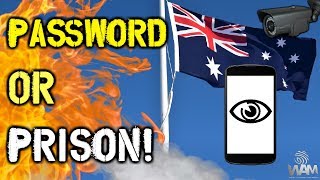 10 YEARS IN JAIL For Not Giving Police Your Phone Password? – Welcome To Australia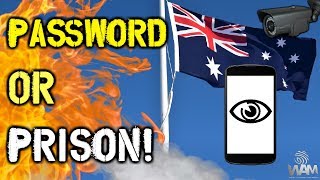 Josh Sigurdson reports on recent news out of Australia as the Aussie government pushes to implement a bill that would force individuals to give the government their phone password or face up to 10 years in prison.
The new "Assistance and Access" bill is out for consultation currently and is very likely to pass. The excuses used for this bill are the usual excuses one would expect for such an intrusion. The most horrific crimes one can imagine. They use these examples to pull at people's heart strings so they accept terrible laws. Overall, this is going to negatively effect people's privacy and then the privacy of their phone or facebook contacts. It's the unrolling of the red carpet towards a social credit score system that no cashless society would be complete without and Australia is certainly pushing a technocratic agenda full speed ahead.
Interesting that the Australian government is all caught up with this as a so-called priority while the housing bubbles in Sydney and Perth expand all while their economy is on the brink of disaster. But of course this is more important, right?
The usual absurdity of government.
Stay tuned for more from WAM!
Video edited by Josh Sigurdson
Featuring:
Josh Sigurdson
Graphics by Bryan Foerster and Josh Sigurdson
Visit us at www.WorldAlternativeMedia.com
LIKE us on Facebook here:
https://www.facebook.com/LibertyShallPrevail/
Follow us on Twitter here:
Tweets by WorldAltMedia
FIND US ON STEEMIT:
https://steemit.com/@joshsigurdson
BUY JOHN SNEISEN'S LATEST BOOK HERE:
Paperback
Kindle
DONATE HERE:
https://www.gofundme.com/w3e2es
Help keep independent media alive!
Pledge here! Just a dollar a month can help us stay on our feet as we face intense YouTube censorship!
https://www.patreon.com/user?u=2652072&ty=h&u=2652072
BITCOIN ADDRESS:
18d1WEnYYhBRgZVbeyLr6UfiJhrQygcgNU
https://anarchapulco.com/buy-your-tickets/
Use Promo Code: wam to save on your tickets!
World Alternative Media
2018
"Find the truth, be the change!"
https://www.jfl-media.com/en/wp-content/uploads/2018/08/S4BhxD.jpg
180
320
Barbara C
https://www.jfl-media.com/en/wp-content/uploads/2018/12/training-adobe-corporate-media.png
Barbara C
2018-08-26 10:43:31
2018-08-26 10:43:31
10 YEARS IN JAIL For Not Giving Police Your Phone Password? - Welcome To Australia