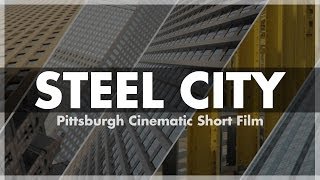 Steel City: Pittsburgh Cinematic Short Film (Strip District, Point State Park, Station Square)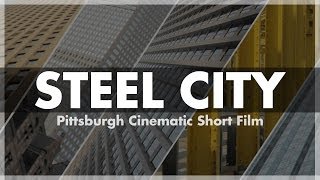 Click here to learn more about this video: http://bit.ly/SCBRFilm
Subscribe: http://bit.ly/BRSubscribe / Follow: http://Twitter.com/ROWD
Many people believe that Pittsburgh is still the dirty, smokey city that it was in the early 1900's. In reality, the city has radically evolved from its "steel city" roots. If you've ever visited Pittsburgh, you'll notice that there are several distinct areas of the city. These areas have their own unique personality that I was very interested in capturing. After having just read The Visual Story by Bruce Block, I began thinking about ways to use composition, movement, color and depth to tell the story of modern-day Pittsburgh. I wanted to create a bright and vibrant depiction of the area and focus on a few of the culturally significant locations of the city, including the Strip District, Point State Park, Station Square, Mount Washington and of course, the streets of downtown Pittsburgh. The film also features Heinz Field, Primanti Brothers, Market Square, the Steel Building, PPG Place, Duquesne University and the Monongahela Incline.
The project was filmed with the Canon EOS Rebel T3i DSLR running Magic Lantern with the Sigma 17-50MM F/2.8 and Canon EF-S 55-250MM F/4.0-5.6 lenses. I used the Davis & Sanford Provista 7518 Tripod with FM18 Head for support. The video was edited using Adobe Premiere and After Effects CS5.5 on an Apple Macbook Pro. I used timelapse photography, slow-motion, light leaks, kinetic typography, image stabilization and time remapping during production. If you're curious about what other equipment was used, you can view my entire equipment list at http://ThatBrandonGuy.com.
You can find more samples of my work at http://ThatBrandonGuy.com and follow me on Twitter at http://Twitter.com/ROWD. Subscribe for my latest short films, documentaries and video projects at http://bit.ly/BRSubscribe.
Credits : Director / Cinematographer / Video Editor
Created : November 1, 2013
Assistant Director: Shana Roudebush
Music Credit: Ecstatic Wave by Jens Kiilstofte (Machinimasound.com)
Licensed under Creative Commons CC-BY 3.0 Unported License | https://machinimasound.com/license
https://www.jfl-media.com/en/wp-content/uploads/2019/02/0GGccl.jpg
180
320
Barbara C
http://www.jfl-media.com/en/wp-content/uploads/2018/12/training-adobe-corporate-media.png
Barbara C
2019-02-02 01:44:54
2019-02-02 01:44:54
Steel City: Pittsburgh Cinematic Short Film (Strip District, Point State Park, Station Square)