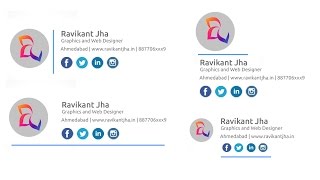 How To Create an email Signature With logo | Gmail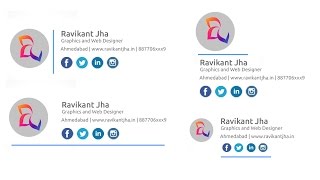 If you want your own attractive email signature then feel free to contact me now : send me an e-mail at: [email protected]
In This Tutorial, I will show you how to create an email signature in Photoshop and set it on your gmail account using Microsoft Office. Having your own signature at the end of your emails is a great way to leave a professional impression. No matter what type of business you are in, having an email signature is the perfect way to sign off. Join us as we take you step by step through the entire process.
Learn In Hindi
________________________
Stay connected With Code and Design for more useful tutorial
_____
Photo Manipulation Tutorial in Photoshop
—————————————
The Mic I Use for voice recording▼
Generic E_57000455 Imported 3.5mm Clip on Mini Lapel Lavalier Microphone for …-57000455MG
https://goo.gl/mRxNSf
Boya Omnidirectional Lavalier Condenser Microphone with 20ft Audio Cable- for DSLRs Camcorders Video Cameras and iPhone Samsung HTC Smart Phone
https://goo.gl/S5bLF7
Mobile Camera I use for video Recording▼
Moto G5 Plus (32GB, Lunar Grey)
https://goo.gl/QKhGN2
__________________
Digital painting Landscape time lapse 1
https://www.youtube.com/watch?v=KrQ3c…
—–
Digital Painting landscape time lapse 2
https://www.youtube.com/watch?v=SL6UU…
—-
Creative Fingertip effect
https://www.youtube.com/watch?v=q9TwT…
___
About Me _▼
Hello I am Ravikant Jha . I am a Graphics and website Designer and Video Editor …….
Visit my website ▼
http://www.ravikantjha.in
___
Follow on Social ♥♥♥♥♥♥
https://www.facebook.com/codeanddesignes
https://www.instagram.com/code_and.design
Tweets by Ravikantjhavfx
https://www.linkedin.com/in/ravikant-jha-07a6a779?trk=nav_responsive_tab_profile
Hindi based website▼
http://www.whatitis.co.in
https://www.gyananchal.com
_
Tags___
How to create an email signature
Email Signatures using Photoshop
Adobe Photoshop (Software)
Email Signature
Email Signature For Gmail
Email Signature For Outlook
professional email signature
professional email signature Templates
email signature generator
beautifully designed, customized email signatures into your compose window
personal branding
professional email signature
Thanks And Regards
Warm Regards
logo in your email signature
Social Media Icons & Logo on email Signatures
Social Media Icons in email Signature
-~-~~-~~~-~~-~-
Please watch: "How to use Font Awesome Icons with Photoshop, Illustrator, or any other program | Code and Design"
-~-~~-~~~-~~-~-
https://www.jfl-media.com/en/wp-content/uploads/2019/01/YsKm9S.jpg
180
320
Barbara C
https://www.jfl-media.com/en/wp-content/uploads/2018/12/training-adobe-corporate-media.png
Barbara C
2019-01-24 16:06:10
2019-01-24 16:06:10
How To Create an email Signature With logo | Gmail