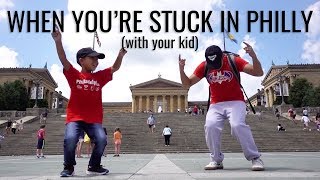 Stuck in Philadelphia with my Kid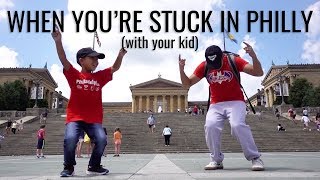 My son and I were stuck in Philadelphia an extra day due to a cancelled flight the night before, and we didn't even have our luggage with us. As people on our flight complained like crazy, I decided to set an example for my son and try to show him how we could make the best of this situation.
We decided to create a one-day "Philly Adventure", and we challenged ourselves to visit as many landmarks in Philadelphia before we flew back home to San Diego in the evening.
Oh, and we decided to dance in front of each landmark, too.
I hope you enjoy this video and remember to make the best out of whatever situation life gives you.
Cheers, and thanks for watching!
Bonus points if you one day shoot a #landmarkdancechallenge video, too 👍
-=-=-=-=-
Subscribe to this YouTube channel:
http://www.youtube.com/subscription_center?add_user=smartpassiveincome
-=-=-=-=-
Want to learn more about the smart way to make money online and start a successful online passive income business (without ripping people off or being dishonest)? Then make sure to visit the Smart Passive Income getting started page below:
http://www.smartpassiveincome.com/passive-income-101
https://www.jfl-media.com/en/wp-content/uploads/2018/09/4hr6LV.jpg
180
320
Christian Bourassa
https://www.jfl-media.com/en/wp-content/uploads/2018/12/training-adobe-corporate-media.png
Christian Bourassa
2018-09-18 01:28:43
2018-09-18 01:28:43
Stuck in Philadelphia with my Kid