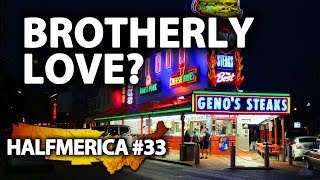 So Much For Brotherly Love, Philadelphia — #Halfmerica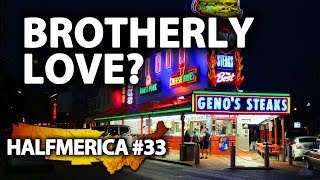 September 9, 2013: Jon visits Philadelphia's famous "Geno's Steaks" to eat a delicious Philly cheesesteak sub, but is disappointed by their confusing ordering system and their rude service. Later, Jon is even more confused by downtown Philadelphia's middle-of-the-street parking situation. After a long day of travel, Jon shares some tips and tricks regarding hotels and cheap accommodations. Halfmerica adventure #33 of 35.
Watch The Entire Halfmerica Trip — http://bit.ly/Halfmerica
~~ Jon's Adventure Vlog ~~
Whenever Jon ventures out into the world to do something exciting, he will take you along for the adventure! New episodes are posted sporadically, often in small bursts immediately following any traveling Jon does, so the schedule depends on when Jon actually goes on an adventure!
Born in February 1986, Jonathan Paula is a professional YouTuber and creator of the hit web series, "Is It A Good Idea To Microwave This?". In April 2006 he founded Jogwheel Productions, a new media production company that specializes in web video. Jon graduated from Emerson College in 2008 with a degree in Television Production / Radio Broadcasting. He currently lives in Rockingham, NH with his wife Rebecca.
~~ Jon's World Shows ~~
Jon's Adventure Vlog ——– http://bit.ly/JAVShow
World According To Jon — http://bit.ly/WATJShow
Game Time ——————— http://bit.ly/JPGTShow
Other "Jon" Content ——— http://bit.ly/JONShow
~~ Channels, Social Media, & More ~~
Jogwheel (Main channel) — http://bit.ly/Jogwheel
Movie Night Archive ——— http://bit.ly/JPMNYT
The Microwave Show ——- http://bit.ly/TMSArchive
Twitter —————————- http://bit.ly/JonTW
Facebook ———————– http://bit.ly/JonFBFan
Instagram ———————– http://bit.ly/JonInsta
Live Shows ——————— http://bit.ly/JogLive
T-Shirts ————————– http://bit.ly/JogStore
~~ Technical Credits ~~
Created by —– Jonathan Paula
Camera ——— Panasonic FZ200 + Canon PowerShot 520 HS
Software ——– Adobe Premiere Pro CC
Computer ——- http://bit.ly/JAV010
• Jogwheel Productions © 2014 •
~
https://www.jfl-media.com/en/wp-content/uploads/2018/09/fgZnhR.jpg
180
320
Christian Bourassa
https://www.jfl-media.com/en/wp-content/uploads/2018/12/training-adobe-corporate-media.png
Christian Bourassa
2018-09-21 08:16:13
2018-09-21 08:16:13
So Much For Brotherly Love, Philadelphia -- #Halfmerica