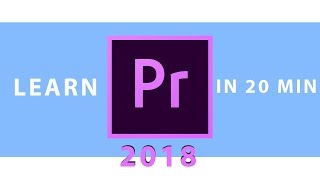 LEARN PREMIERE PRO 2018 CC IN 20 MINUTES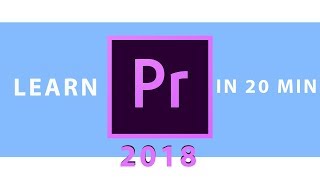 In just 20 minutes we are going to learn everything you need to know to get started in editing in Adobe Premiere Pro 2018 CC. This tutorial can be followed even if you don't have the latest version of Premiere Pro.
EDITING WORKSHOP:
http://bit.ly/2PjxgBm
MORE BASIC PREMIERE PRO TUTORIALS:
http://bit.ly/2OL22SB
In this tutorial we will learn:
How to Import Media or footage into Premiere pro
How to edit your clips into a timeline
How to trim clips and make an edit that flows
How to work with audio and sound effects in Premiere
How to color grade in a quick and easy way
How to add text in the new Premiere Pro interface
Learn Premiere Pro 2018 in just 20 minutes and if you feel like diving deeper here are the playlists to more editing tutorials I mentioned:
Interested in getting Premiere Pro CC?
Buy it here: https://goo.gl/eNop8t
MUSIC BY ARTLIST
Get amazing royalty free music here:
http://bit.ly/2JJUEng
⬇ MY GEAR ⬇
Sony a7s https://goo.gl/VSPhm9
Sony a7s II https://goo.gl/zxlsFk
Sony 24-70mm https://goo.gl/HqZeYQ
Sony 55mm https://goo.gl/yIDfFn
Tamron 70-200mm https://goo.gl/b5eGnD
Tamron 15-30mm https://goo.gl/tZCYyB
Edited in Premiere CC https://goo.gl/eNop8t
INSTAGRAM: http://instagram.com/kriscoart
TWITTER: https://twitter.com/kriscoart
FACEBOOK: www.facebook.com/kriscoart
Kriscoart is a filmmaking channel and company based on the core values to Learn, Create, Share. The editing and vfx tutorials, lighting workshops, and short film break downs are a small step towards free education hoping that one day this can be an integral part in providing the tools and knowledge so that every filmmaker's voice and unique perspective is heard.
If you are interested in learning tips and cinematic camera techniques and giving an epic flare to your edits while staying true to the emotion of the story then Subscribe for more films, tutorials and filmmaking videos.
For business inquiries please contact me here:
create@kriscoart.com
Thank you for watching
https://www.jfl-media.com/en/wp-content/uploads/2019/01/VgDwMb.jpg
180
320
http://www.jfl-media.com/en/wp-content/uploads/2018/12/training-adobe-corporate-media.png
2019-01-28 01:38:19
2019-01-28 01:38:19
LEARN PREMIERE PRO 2018 CC IN 20 MINUTES