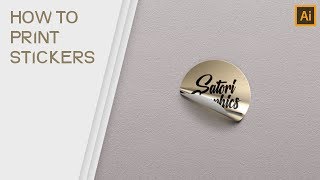 How To Print Stickers In Adobe Illustrator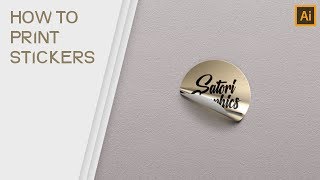 Learn how to print stickers in Adobe Illustrator with todays tutorial by satori graphics, based totally around designing stickers and laying them out for print in Illustrator.
It's Tom with Satori Graphics back with another graphic design Illustrator tutorial; today how to print stickers using Adobe Illustrator. This video is not around the creative process of a sticker design, more the technical aspect of setting up a document to print stickers in Adobe Illustrator. If you guys want to see a sticker design tutorial, and the creative process of one, let me know in the comment section of todays tutorial.
As I say in the video, many printing agencies will set up the document for you, but today I show you how to print and make stickers in Adobe Illustrator for yourself. I go through the layout, and how to set up the document, to choosing the right file format and saving the print layout in Illustrator.
If you found this graphic design upload on how to print stickers in Adobe Illustrator enjoyable or useful, let me know in the comments section and drop a like on your way out. Subscribe to stay updated to all of my uploads and until next time, design your future today, peace
CHECK OUT MY GRAPHIC DESIGN DIGITAL DOWNLOADS:
➤➤ https://www.satorigraphics.net/typography-ebook-download/
Crypto Currency Donations:
Bitcoin: 3QVJHovrBsaMszrR7k1Sybcnzt9g7mKCRU
Grab Quality Video & Audio Equipment!
➤➤ http://www.movophoto.com?rfsn=1080873.f11291
***** ✪ COOL GRAPHIC DESIGN GADGETS AND RESOURCES ✪ *****
PERFECT Book For Logo Designers
➤➤ http://amzn.to/2uqZiCi
Grab Yourself The Same Camera I Use For My Videos
➤➤ http://amzn.to/2AS8gxd
Professional AND Affordable Wacom Tablet
➤➤ http://amzn.to/2s1sNrJ
***************** SUBSCRIBE TO SATORI GRAPHICS *****************
➤➤ https://www.youtube.com/channel/UCoeJKtPJLoIBqWq4o8TDLpA
My most recent graphic design tutorial:
Check out this playlist on logo design tutorials:
***************** MUSIC *****************
Chill by Joakim Karud, check his music out here
https://soundcloud.com/joakimkarud/va
***************** SOCIAL NETWORKS *****************
➤ TWITTER: https://twitter.com/satorigraphic2k
➤ INSTAGRAM: https://www.instagram.com/satori_graphics/
➤ PINTEREST: https://uk.pinterest.com/satorigraphics/
▶ Copyright
The work is protected by copyright. This is applied to the video recording of itself as well as all artistic aspects including special protection on the final outcome. Legal steps will have to be taken if copyright is breeched. Music is used from the YouTube audio library and thus copyright free music.
https://youtu.be/jagjAh2phRA
https://www.jfl-media.com/en/wp-content/uploads/2018/07/arlfeJ.jpg
180
320
Barbara C
https://www.jfl-media.com/en/wp-content/uploads/2018/12/training-adobe-corporate-media.png
Barbara C
2018-07-24 15:37:07
2018-07-24 15:37:07
How To Print Stickers In Adobe Illustrator