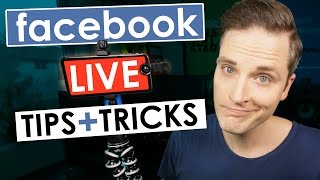 Facebook LIVE Streaming Tutorial — 8 Facebook Live Tips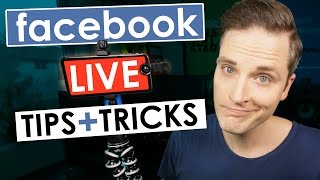 8 Facebook LIVE tips for getting more likes and building your brand and business with live streaming. ***** Download the FREE Smartphone Gear Guide here: http://PhoneGearGuide.com
FACEBOOK PAGE — I share online video and social media tips weekly on Facebook Live on this page: http://fb.com/seanthinks
Facebook LIVE Gear and Accessories:
1. Smartphone Lenses
CamKix Deluxe Universal 5in1 Camera Lens Kit for Smartphone
http://amzn.to/2gDz22V
2. Smartphone Tripod
Arkon iPhone Tripod (Budget Version)
http://amzn.to/2flAxjl
Joby GorillaPod SLR Zoom Tripod with Ball Head Bundle
http://amzn.to/2gDD4by
MeFoto SideKick360 Smartphone Tripod Adapter (make sure to get the Plus version if you have a larger phone).
http://amzn.to/2flAG6n
I'm using the Joby GorillaPod and a MeFoto 360 Plus in the video.
3. Smartphone Microphone
IK Multimedia iRig Mic Lav compact lavalier microphone for smartphones and tablets
http://amzn.to/2flAxjl
Rode WS9 Deluxe Wind Shield for VideoMicro and VideoMic Me (This mic is great if you have more than one person on camera)
http://amzn.to/2f0xUoM
BOYA BY M1 Lavalier Microphone (budget version)
http://amzn.to/2mHsG0j
(Playlist) Check out my Smartphone Gear Video Playlist here: https://www.youtube.com/playlist?list=PLgc0GNip2uYWqIaQEfBUYxIyzpvZ-VtQa
FACEBOOK PAGE — I do weekly Facebook Live Streams on this page. http://fb.com/seanthinks
QUESTION — Have a question about Online Video, Video Production, Tech, Marketing, or Anything Else? Post in comments section of this video!
Check out the complete list of gear I use for creating YouTube videos here: http://thinkmediagear.com
Music by: David Cutter Music – http://www.davidcuttermusic.co.uk
Subscribe to THiNK Media TV Here: https://www.youtube.com/THiNKmediaTV
Sean Cannell on Social Media:
https://www.seancannell.com/
Tweets by seancannell
https://instagram.com/seancannell
https://www.snapchat.com/add/seancannell
https://www.facebook.com/seanthinks
———Cameras Used To Shoot This Video ——-
Camera — Canon EOS 70D
http://amzn.to/22mmlqr
Lens — Canon EF-S 10-18mm
http://amzn.to/2mHpdPs
Tripod — Ravelli Light Weight Aluminum Tripod With Bag
http://amzn.to/22mlVjS
Microphone — Rode VideoMic Pro Compact VMP Shotgun Microphone
http://amzn.to/29lUkcs
Lighting — StudioPRO (Set of 2) S-600BN Dimmable 600 Bright LED Photography Continuous Bi Color Light Panel
http://amzn.to/2mpEXKU
This VIDEO was EDITED with Adobe Premiere on a PC.
http://bit.ly/PremiereProTrial
DISCLAIMER: This video and description contains affiliate links, which means that if you click on one of the product links, I'll receive a small commission. This helps support the channel and allows us to continue to make videos like this. Thank you for the support!
About this Video:
In this video Sean Cannell from THiNK media TV how to get Facebook likes for business with Facebook live streaming. These 8 Facebook live tips and Facebook live stream tutorial will help you grow your brand and reach more people with your message. Using Facebook live for business is a great way to get likes and increase your influence online. Subscribe to THiNK media TV for more Facebook marketing for business tips in the future.
https://www.jfl-media.com/en/wp-content/uploads/2018/09/bUm76O.jpg
180
320
Barbara C
http://www.jfl-media.com/en/wp-content/uploads/2018/12/training-adobe-corporate-media.png
Barbara C
2018-09-06 02:14:37
2018-09-06 02:14:37
Facebook LIVE Streaming Tutorial — 8 Facebook Live Tips