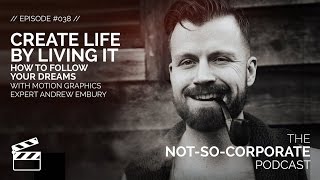 Create Life By Living It: How to Follow Your Dreams – #038 – The Not-So-Corporate Podcast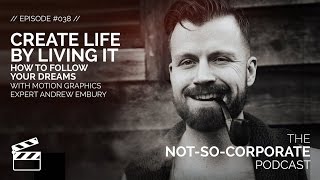 This week on the podcast, the gang is joined by motion graphics expert, adventurer, and outdoorsman Andrew Embury.
Andrew Embury is a motion graphic artist who believes in following your dreams, doing whatever it takes, and living life at all costs. Andrew's career has been an incredible journey of risks and heartbreak. He shares with us his stories and the life lessons he's picked up along the way. He is a true creative and is an inspiration to anyone struggling with breaking into motion graphics or any other creative industry. Listen up to a podcast that is far from dull!
***Connect with Andrew***
Website: http://www.aembury.com/
Twitter: @AEmbury
***WANT TO TALK TO US?***
Ask us a question! Send us a kind note! Tell us you hate us!
CONNECT WITH US
// Twitter: @PhantaMedia
// Facebook: facebook.com/LifeAtPhanta/
// Email: [email protected]
// Instagram: @lifeatphanta
// Google+: plus.google.com/+PhantaMediaLtd
OTHER STUFF TO CHECK OUT
Past Podcasts:
// Great Reads That Will Change the Way You Do Business: https://youtu.be/h82nehLkPPo
// UnMarketing: Stop Breaking Social Media (and Other Good Advice): https://youtu.be/NweSaUIeHPc
//Grow Sales Through Relationship Marketing: https://youtu.be/43JPwjZsjFc
// Learn How to Improve Your Writing: https://youtu.be/anPD1KFPgOg
https://www.jfl-media.com/en/wp-content/uploads/2018/08/vmQyuE.jpg
180
320
Barbara C
https://www.jfl-media.com/en/wp-content/uploads/2018/12/training-adobe-corporate-media.png
Barbara C
2018-08-28 16:55:41
2018-08-28 16:55:41
Create Life By Living It: How to Follow Your Dreams - #038 - The Not-So-Corporate Podcast