Adobe Muse Course
Training Description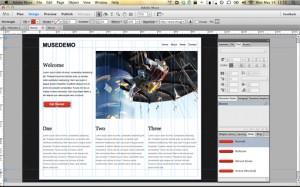 In this course, learn how to create websites without writing code. If you're familiar with Adobe Photoshop, InDesign, or Illustrator, and you have an occasional need to build websites, Adobe Muse is for you. This course will show you the required steps to properly plan, design, and publish a site. From Master Pages, Headers, Footers, and everything in between, you'll have the skills to quickly build a modern website based on web standards.
Objective
Learn how to incorporate some of the latest web trends in design, including: parallax scrolling, JQuery slideshows, Google maps, social media, video, contact forms, and much more. When you are finished with this course, you'll know the ins and outs of Adobe Muse and be ready to tackle cool, cutting edge, interactive web projects in Adobe Muse!
Course content
Creating a new site
Edit the site properties
Creating and editing your site map
Adding and deleting pages in your site
Arranging pages in the site map
Setting page properties
Adding page metadata
Building a master page
Editing the page area and browser fill
Editing master page properties
Editing the master page guides
Adding a logo to the header
Adding a navigation menu
Assigning content to the footer
Prerequisite
Good motivation
Some computer skills
Teaching Approach
We make our lessons very personal for our students to make them comfortable with the program. We work with your projects so you can advance in your work while learning Adobe muse. Adobe Muse training is a must to build a professional website.
Contact 
Montreal : 514 448-0883
Quebec : 418 478-1647
Ottawa : 613 366-1743
Toronto : 416 907-8551
Calgary: 403 536-0703   
Edmonton 780 669-6585 
Vancouver: 778 785-2229