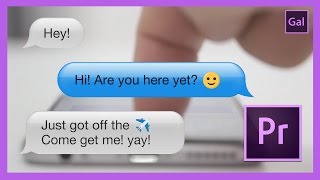 Text Message Animation in Premiere Pro CC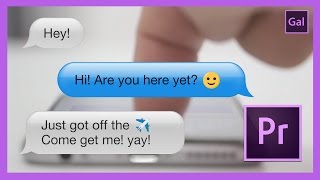 Download the text message motion graphics templates (.MOGRT) for just 0.99 cents! http://bit.ly/2pYRdjS
The template includes 2 motion graphics templates (green and blue text versions), 25 free emojis, stock video and a text message sound file. Note: This template is only useable in CC 2017+, not previous versions. As the Essential Graphics Panel is required.
Check out Motion Graphics & After Effects Templates from Envato Market: http://bit.ly/2Ai75m7
🎬 Download Adobe Premiere Pro and the Creative Cloud Here: http://bit.ly/2xl0WI2
🛒 Get awesome after effects templates & motion graphics from Envato Market: http://bit.ly/2Ai75m7
💳 Did this tutorial help you? Help me make more video tutorials: http://patreon.com/premieregal
🎶 Get SoundStripe Music, 10% off with code GAL10: http://bit.ly/2onCBh0
👩‍💻 Want to work together or hire me? Email me: contact@premieregal.com
🎥 EQUIPMENT I USE:
http://premieregal.com/gear
▶️SUBSCRIBE to keep up with the video trends!
– http://bit.ly/2sKCLQ1
____________________________________________________________
💰DISCOUNTS:
FILMIMPACT.NET. Get 15% off cool transitions & bounce packs: PREMIEREGAL15
-http://bit.ly/2eJgj5A
SOUNDSTRIPE MUSIC for your videos, get 10% off with code: GAL10
– http://bit.ly/2onCBh0
MIRROR MIRROR MUSIC for your videos , get 10% off with code: PREMIEREGAL
-http://bit.ly/2tOiWbS
FOXI MUSIC for your videos, get 15% off with code: premieregal
– http://bit.ly/2vQ6h77
KYNO Media Management, get 10% off with code: GAL10
-http://bit.ly/2qUnxFT
StudioBinder, video production on-set software, get 25% off Code: PREMIEREGAL25
-http://bit.ly/2h0TFpS
EDITORSKEYS, mics, keyboards & more, get 10% off Code: PREMGAL17
-http://bit.ly/2utUfxV
SEE MORE GAL DISCOUNTS EVERY WEEK:
-http://bit.ly/2sVSDgK
____________________________________________________________
🤔 FAQ: FREQUENTLY ASKED QUESTIONS:
What equipment should I use?
➜ http://bit.ly/2uaFMar
How can I partner with Premiere Gal?
➜ http://premieregal.com/partner
Where to get the Adobe Creative Cloud?
➜ http://amzn.to/2rVFROq
What do I use to record screen capture?
➜ http://apple.co/2tDjUIh
NEW TO VIDEO EDITING? Take my 145 min Course on Pluralsight:
➜http://bit.ly/2ry5x3i
What do I use for Media Management (organizing my video)?
➜ http://bit.ly/2qUnxFT
____________________________________________________________
FOLLOW ME on Social Media
➜ http://twitter.com/Premiere_Gal
➜ http://facebook.com/PremiereGal
➜ http://instagram.com/Premiere_Gal
Website ➜ http://premieregal.com
https://www.jfl-media.com/en/wp-content/uploads/2019/02/ztIdD7.jpg
180
320
Barbara C
http://www.jfl-media.com/en/wp-content/uploads/2018/12/training-adobe-corporate-media.png
Barbara C
2019-02-26 13:29:23
2019-02-26 13:29:23
Text Message Animation in Premiere Pro CC