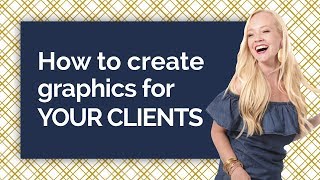 How to Create Graphics for Your Clients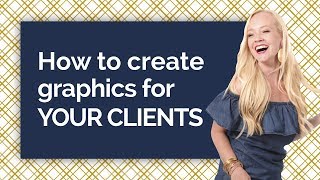 FREE SOCIAL MEDIA MANAGER BUNDLE: http://bit.ly/2KjGg6Z
1. Best and worst industries for social media managers
2. A roundup report of the best tools for social media managers
3. The checklist of what you need for your business
BONUS: here is Marley Baird's tutorial "How To Use Canva"!!!
How do you create a visual brand without being a graphic designer…
Okay – listen.
I'm NOT a graphic designer… I'm not an interior designer… I can barely tell clothes go well together (I'm not joking!).
So when I realized that as a social media manager I had to learn how to create graphics – CUE THE SWEATING.
I've gotten better at creating graphics – but it took me a while… When I figured out how to EASILY create graphics for my clients, it was like the heavens opened up.
There are so many AMAZING resources to help you get those perfect images for branding – that you didn't have to go to graphic design school to make!!!
My images that you know (and love) today – definitely did NOT start that way…
I really should just hand this email over to Marley Baird 🤣🤣🤣
But honestly…
Marley is the true queen behind all things graphic (and video!!).
Take her YouTube video "How To Use Canva" for example…
It has over 105k views!!!
Wait – is this my show or hers?!
Only kind of kidding… 😉
Here's MY take on how to create graphics for you and your clients:
BONUS: here is Marley Baird's tutorial "How To Use Canva"!!!
Connect with me on all platforms!
Website: www.rachelpedersen.com
Facebook: https://www.facebook.com/themrspedersen
Snapchat: https://www.snapchat.com/add/themrspedersen
Twitter: https://twitter.com/themrspedersen
Instagram: http://instagram.com/themrspedersen
https://www.jfl-media.com/en/wp-content/uploads/2018/12/TOg1oJ.jpg
180
320
Barbara C
http://www.jfl-media.com/en/wp-content/uploads/2018/12/training-adobe-corporate-media.png
Barbara C
2018-12-20 07:14:03
2018-12-20 07:14:03
How to Create Graphics for Your Clients