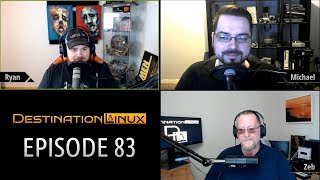 Destination Linux EP83 – Summertime Threadripping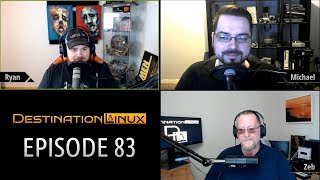 https://destinationlinux.org/episode-83-summertime-threadripping/
Episode 83 of Destination Linux
On this episode of Destination Linux, as we are down 1 host, we've made quite a few changes to the show. We are still in the process of making these changes so please bear with us still but I think there is a lot of potential for the future. This week, we discussed the latest news such as the Solus 10 Hour Hackfest, new releases of Netrunner, Thunderbird, LibreOffice, and X.Org. We also got some cool new games in the Linux Gaming section and we are continuing with our new segments for Tips & Tricks as well as Software Spotlights. All that and much more!
Quick Links:
Ryan, aka DasGeek – https://dasgeekcommunity.com
Michael, with TuxDigital – https://tuxdigital.com
Zeb, aka Zebedeeboss – https://youtube.com/zebedeeboss
Want to Support the Show?
Support on Patreon – https://destinationlinux.org/patreon
Order Destination Linux Apparel – https://teespring.com/destinationlinuxpodcast
Want to follow the show and hosts on social media?
You can find all of our social accounts at https://destinationlinux.org/contact
—
Topics covered in this episode:
Summertime Solus – https://solus-project.com/2018/08/10/summertime-solus/
Netrunner Rolling 2018.08 Is Here – https://betanews.com/2018/08/05/netrunner-rolling-manjaro-arch-linux-kde-gtk/
KDE Plasma 5.14 Adds New Feature To Upgrade Firmware – https://news.softpedia.com/news/kde-plasma-5-14-desktop-environment-lets-you-upgrade-your-computer-s-firmware-522253.shtml
X.Org Server 1.20.1 Released – https://www.phoronix.com/scan.php?page=news_item&px=Xorg-Server-1.20.1-Released
Gnome 3.30 Automatic Updates – https://news.softpedia.com/news/gnome-3-30-desktop-will-finally-bring-automatic-updates-but-only-for-flatpaks-522302.shtml
Firefox Experiments With Recommending Articles – https://www.ghacks.net/2018/08/07/firefox-experiment-recommends-articles-based-on-your-browsing/
Thunderbird 60 Has Been Released – https://www.thunderbird.net/en-US/thunderbird/60.0/releasenotes/
LibreOffice 6.1 Released – https://www.omgubuntu.co.uk/2018/08/libreoffice-6-1-release-download
AMD Threadripper 2 Preorder Start Now – https://www.anandtech.com/show/13123/amd-threadripper-2-teaser-pre-orders-start-today-up-to-32-cores
AMDGPU LRU Bulk Patches OpenCL and Vulkan Boosts – https://www.phoronix.com/scan.php?page=news_item&px=AMDGPU-LRU-Bulk-Move
Dead Cells – The best Linux Game This Year Is Now Out? – https://www.gamingonlinux.com/articles/dead-cells-probably-one-of-the-best-linux-games-this-year-is-now-out.12302
Forsaken Remastered Comes To Linux – https://www.gamingonlinux.com/articles/nightdive-studios-have-released-forsaken-remastered-with-linux-support.12253
—
Tip / Trick:
Use the 'at' command in the terminal to execute a task at a certain time. If 'at' is not already installed you can install it from your package manager sudo apt install at
Terminal type time:
at 9:45 AM 08/07/2018
[Enter]
## Type command you want to execute
ls
## CTRL+D to kill prompt and it will be scheduled
Software Spotlight:
GPick – http://www.gpick.org
KColorChooser – https://www.kde.org/applications/graphics/kcolorchooser/
—–
DL Community Email:
I stumbled across the podcast at a time in my life when I was struggling with the worst depression and anxiety I've ever experienced in my life. I am so grateful that I did find it though. The very first episode I saw had Martin Wimpress on as a guest. The banter between Ryan and wimpy was the first thing that was able to make me laugh in months. I can't describe how much I appreciate all of the hard work from the past and current lineup.
You guys renew my passion and excitement for Linux every week. Thanks for helping create and maintain a community that cares about a project that is actually making a difference in the world. And a community where I can remain silent but still feel like I'm surrounded by friends in discord and telegram. Friends who love to talk about Linux and computers as much as I do and won't perceive me as just some nerd that isn't worth talking to. I feel home.
All of your hard work is what keeps us going and drives us to want to learn more! I genuinely can't thank you guys enough for everything you do. I'll be around as long as DL is around.
https://www.jfl-media.com/en/wp-content/uploads/2018/08/QDFEaS.jpg
180
320
Barbara C
https://www.jfl-media.com/en/wp-content/uploads/2018/12/training-adobe-corporate-media.png
Barbara C
2018-08-20 08:22:32
2018-08-20 08:22:32
Destination Linux EP83 - Summertime Threadripping