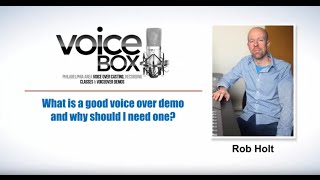 How to record a good voice over demo | Philadelphia PA | Voice Box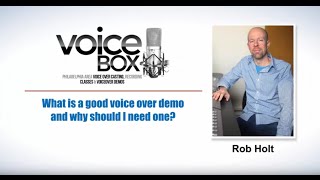 Voice Box is a Philadelphia Area Studio for Voice Over Casting, Recording, Voice over Classes & Voice over Demos.
Voice Over Casting
Rob Holt from Voice Box, has been a voice over casting director in the Philadelphia area for over 10 years. Although he has run his share of on-camera auditions, Rob has focused mainly in the area of voice over casting and has helped clients find the right voice for hundreds of projects, ranging from TV and radio commercials to instructional modules, corporate training, medical research, and phone systems.
The Voice Over Studio at Voice Box
Need a voice recording?
Our goal is to provide a clean and natural sounding reproduction of the vocal performance to best suit your project. Clients can direct in studio or from their location using our phone patch.
Voice Over Classes
Rob Holt has taught many VO workshops throughout the years for kids, teens, and adults. He has also given numerous lectures on the subject of voice over for organizations such as the Screen Actors Guild and Backstage Magazine with 50 to 100 attendees. Rob is an instructor in the 8-week voice over class, and the advanced class.
800-883-1716
What is a good voice over demo and why should I need one?
Okay. Demos. In a world, there was a demo. Demos are extremely important. They are your number 1 marketing tool; I'd say as a voice over talent, they're just really important. We used to do things the old fashioned way back in the day where we would have an "audition" and… I love auditions and I still do them but they're becoming fewer and fewer and more far between. Whereas in an audition, I would call you, I'd say, "Hey Dan, can you come to my studio tomorrow and do an audition for me?", and you come in, you get the script and sometimes the producer and the director are there and they, or I direct you, we read the script, we record it on my awesome sounding gear and I ship all the auditions off to the client at the end of the day. But again, there's less and less time and less and less of a budget for all this, because auditions are costly and they take a long time, so I guess somewhere down the road, it became more and more convenient to use a voice over demo. Whereas a voice over demo is kind of like an actor's real, if you've ever heard of an actor's real where it's different spots of them acting. So someone can watch that and see what they're like as an actor. A voice over demo is very similar. Let's say, there's different types; a commercial demo will be, maybe 8 spots, let's say. Eight different short little clips of all different commercials, so that the listener can understand how you perform under different commercial conditions. There might be anything from an upsell car dealer spot, "Buy! Buy! Buy! I'll stop yelling when you start buying!" and then there'll be down to a very warm and concerned hospital spot, where it's a place where you need to go to get the treatment you need and everything in between, so that the listener, which is usually a producer, sometimes the client, or a person at the company that is making the project, they can hear it, and they can get a sense of what you're like as a talent. Another side of the demo is this; it becomes a thing. Isn't that brilliant? It's a thing! Well, we probably knew that but it becomes a thing that gives you a reason to reach out to a producer or a casting director and say, Hey! I'm new in town or I'm a new voice over talent or I just had my demos produced, here they are. If there's any way I can help you out, I'd love to help you on any voice over projects you have. See, you have this calling card. It's a great example of what you do from a voice over standpoint.
https://www.youtube.com/channel/UCK7AECdpvnS8424RjBMVkVg
https://www.jfl-media.com/en/wp-content/uploads/2019/01/uvs5th.jpg
180
320
Barbara C
http://www.jfl-media.com/en/wp-content/uploads/2018/12/training-adobe-corporate-media.png
Barbara C
2019-01-28 02:14:07
2019-01-28 02:14:07
How to record a good voice over demo | Philadelphia PA | Voice Box