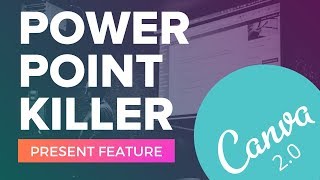 Canva 2.0: Create Better Presentations (new feature)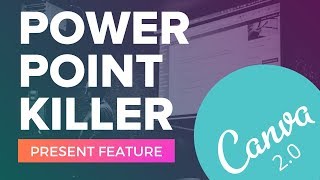 ⬇⬇⬇⬇ Become Better at Design ⬇⬇⬇⬇
★ Discover my 2018 Canva Master Course ★
↣ Get it here for only 29.99$: https://goo.gl/UjEvkK
Canva is a powerful and free design tool that everybody can use to create beautiful visuals.
I personally use it everyday!
With this course I wanted to introduce Canva to as many people as possible and teach them how to use it to design professional visuals and graphics to build their personal brand or grow their business.
The Master Course is about 4.5 hours long and has 45 video lessons. It's perfect for entrepreneurs, virtual assistants, freelancers, small businesses, social media managers and anyone who wants to become a better designer.
Thank you so much for watching, don't forget to subscribe for more Canva tutorials!
★ GET the FULL Canva Master Course for only 29.99$★
↣ https://goo.gl/UjEvkK
❤ More PREMIUM Courses / Tutorials:
2018 Canva Master Course on Skillshare ↣
Branding for Beginners Course (19.99$) ↣ https://goo.gl/QcBqrL
❤ More FREE Courses / Tutorials:
Master Course first 10 lessons for FREE ↣ https://goo.gl/GGDySM
How to Find & Customize Icons for Free ↣ https://goo.gl/7Qa1MC
Our Facebook Learning Group ↣ https://www.facebook.com/groups/LearnCanva
— Or simply SUBSCRIBE to this Channel —
❤ Connect with me:
LINKEDIN ↣ https://www.linkedin.com/in/ronnyhermosa/
FACEBOOK ↣ https://www.facebook.com/ronny.hermosa
EMAIL ↣ [email protected]
UDEMY ↣ https://www.udemy.com/user/ronny-hermosa/
SKILLSHARE ↣ https://www.skillshare.com/r/user/ronnyhermosa
Disclaimer – if any products or videos are sponsored I will specifically disclose that, but some content may be affiliate links to help me survive!
#Canva #DesignWithCanva #Canva2.0
https://www.jfl-media.com/en/wp-content/uploads/2018/09/vjLUTs.jpg
180
320
Barbara C
http://www.jfl-media.com/en/wp-content/uploads/2018/12/training-adobe-corporate-media.png
Barbara C
2018-09-26 15:16:17
2018-09-26 15:16:17
Canva 2.0: Create Better Presentations (new feature)