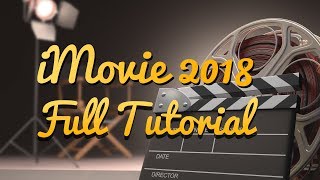 iMovie 2018 FULL CLASS!!!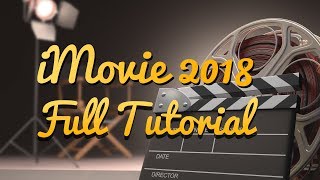 Welcome to my iMovie 2018 CLASS!! PDF Guide here FOR FREE: http://bit.ly/TechTalkPDFs
SUBSCRIBE!!! http://bit.ly/TTASubscribe
Want to learn the basics of video editing? You've come to the right place! In this 43 minute class, David will show you everything you need to know in order to edit with iMovie. We'll start off showing you how to import and organize your footage and then we'll cover topics like adding transitions, adding text to your video, animate your photos by adding "the Ken Burns effect" to them, and so much more.
Want to Take A Private Lesson With David?
ALSO now offering YouTube Channel Consulting Services
Book Your Lesson Today: http://techtalkamerica.com/privatelessons
Once you've got this lesson down, you may want to check out my class on Final Cut Pro X. I'm going to be updating it in the near future, but this is my class from last year: https://youtu.be/NPbBDs67aCY
Looking to stabilize your iPhone/Android's Video Footage? Here's the gimbal I can't stop recommending: http://amzn.to/2HyPZnx
For additional resources, please check out my handy PDF guide with a list of all links and handy hotkeys to make editing your next video a breeze!
– – – – – – – – – – – – – – – – – – – – – – – – – – – – – – – – –
Why Book A Private Lesson with David?
➔ Get your questions answered from the comfort of your own home.
➔ Priced to be affordable.
➔ Available for 30 or 60 minutes.
➔ YouTube Channel Consulting Now Available
➔ Sample Topics Include: Photos Organizing/Editing/Projects, Video Editing, Clean Up Hard Drive, Organizing, Backup Solutions, New to Mac Instruction, etc.
Click Here to Book A Lesson: http://bit.ly/DavidACox
Check Out All the Tech Products David Recommends Here:
http://bit.ly/TTARecommendations
Follow Tech Talk America on Facebook:
https://www.facebook.com/techtalkamerica2
Occasionally catch us on Instagram:
http://instagram.com/techtalkamerica
We almost never use Twitter, but here's our handle anyway:
Tweets by techtalkamerica
http://bit.ly/TTASubscribe
●▬▬▬▬▬▬▬๑۩۩๑▬▬▬▬▬▬▬▬●
_*****╔═╦╗╔╦╗╔═╦═╦╦╦╦╗╔═╗***** _
_*****║╚╣║║║╚╣╚╣╔╣╔╣║╚╣═╣***** _
_*****╠╗║╚╝║║╠╗║╚╣║║║║║═╣***** _
_*****╚═╩══╩═╩═╩═╩╝╚╩═╩═╝***** _
●▬▬▬▬▬▬▬๑۩۩๑▬▬▬▬▬▬▬▬●
http://www.jfl-media.com/en/wp-content/uploads/2018/06/PVAoh1.jpg
180
320
Christian Bourassa
http://www.jfl-media.com/en/wp-content/uploads/2018/12/training-adobe-corporate-media.png
Christian Bourassa
2018-06-15 21:08:33
2018-06-15 21:08:33
iMovie 2018 FULL CLASS!!!