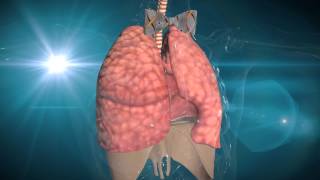 The Lungs-Exterior Loop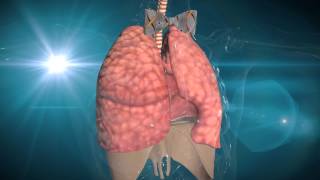 The Carnegie Science Center of Pittsburgh approached me with the daunting task to create over thirty different animations and three videos for their new "Science on the Road" outreach program. The target audience is K-12 students, so the show needed to be
educational yet entertaining, scientific yet a little gross. The show entitled "Anatomy Academy", is a fantastic voyage through the
human body by a clever nanobot named C.E.L.L. C.E.L.L., short for "Circulatory Educational Learning Laboratory", is miniaturized and injected into the the patient to explore the human anatomy and combat several illnesses. A futuristic video game like interface from
C.E.L.L.'s point of view is used to relay information throughout the journey. For the lack of the complete human model, several models
need to be combined into a single anatomically correct 3D model. Pumping blood, beating hearts, breathing lungs, flexing muscles,
tightening tendons, stretching skin and organs had to be realized when starting this project. Cinema 4D, Daz Studio, Element 3D,
along with stock and shot footage was composited in Adobe After Effects to produce these animation segments. A full production
crew was organized and directed for the two location shoots onsite at the Carnegie Science Center. Adobe Premiere was used for
editing, laying in audio, sound effects a plenty and final color correction and compression. As the client put it, "The results are like something out of Disney".
https://www.jfl-media.com/en/wp-content/uploads/2018/09/4pSeAB.jpg
180
320
Christian Bourassa
https://www.jfl-media.com/en/wp-content/uploads/2018/12/training-adobe-corporate-media.png
Christian Bourassa
2018-09-16 21:55:28
2018-09-16 21:55:28
The Lungs-Exterior Loop