The public, Capucine Labarthe and Baillat Cardell & fils, Place des arts, Montreal
Year: 2011
Category: Offline Digital
Title: The public / inspiration / as seen by Baillat Cardell & fils
Baillat Cardell & fils has been entrusted with the creation of pictures and videos for the new screens of the Grand Foyer culturel de la Place des Arts. The installation allows us to discover the complex relationship between creators and viewers, as perceived and experienced by different artists.
BC&e has ordered and directed the tables of the illustrator, Capucine Labarthe (" The public ") and illustrator LINO (" inspiration "). Two other tables are being created, including one on "The critic," fully paid by the studio.
Baillat Cardell & fils in collaboration with the illustrators Capucine Labarthe and Lino, has produced and designed 2 video installations situated in the Hall of the Place des Arts Complex in Montreal. They capture in a metaphoric manner the inspirational process of those who create and the range of emotions felt by the spectators.
To see the work :
vimeo.com/109524108
or
www.youtube.com/watch?v=bMtGhBxy3yI
By Retis on 2016-11-23 20:14:02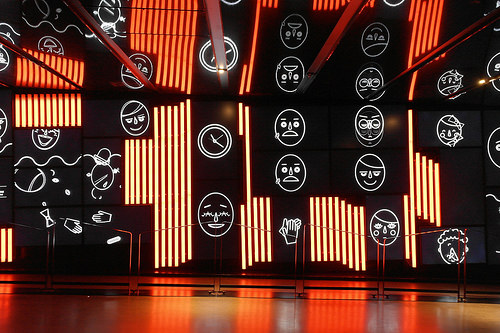 https://www.jfl-media.com/en/wp-content/uploads/2018/03/e06Ci4.jpg
333
500
Jean-Francois Labrosse
https://www.jfl-media.com/en/wp-content/uploads/2018/12/training-adobe-corporate-media.png
Jean-Francois Labrosse
2018-03-10 15:01:04
2018-03-10 15:01:04
The public, Capucine Labarthe and Baillat Cardell & fils, Place des arts, Montreal