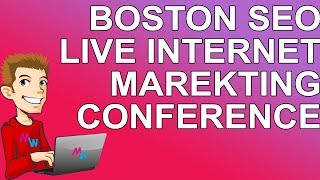 Matthew Woodward Boston SEO Live Conference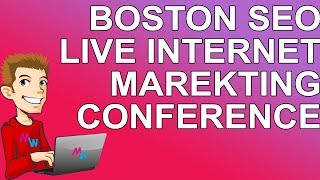 http://www.matthewwoodward.co.uk/talks/boston-seo/
Watch my very first live conference presentation from Boston SEO!
I also take live fire question from the audience!
You can download this video at http://www.matthewwoodward.co.uk/talks/boston-seo/
Partial Transcript (full transcript on the blog)
Matthew Woodward here and not done anything like this before but I'd like to thank the Boston SEO team for having me on and I thought I'd start off by telling you a little bit about myself.
I have over 13 years experience online and pretty much grew up on the Internet from a young age. I was previously a successful corporate online marketer but I didn't really like that too much. It was very rigid and structured in nature and that's just doesn't work with the web.
And of now I've been a full time affiliate marketer for the past 4 years also and in the last 12 months I've built a Technorati Top 100 Business Blog which I am going to talk about today and take you behind the scenes in a little bit.
The blog has had a pretty well 12 months to be honest since it's launched. It's has 113 thousand unique visitors and that's according to over 600,000 page views which shows people engage with the content and clicking around and moving throughout the site quite a lot.
It's also had 16 and a half thousand social shares, and nearly nine thousand subscribers and since it's launched it's won 4 major awards including the Technorati Top 100 business Blog in July and August and also Pro Blogger of March 2013, the best of Search Engine Journal 2012, and the Unbounce Top 75 marketing blogs.
It's made seventy-three thousand dollars in profit and I've been able to do this while traveling to 10 countries around the world.
And I think the next slide yeah that will show you the month by month growth of traffic of the blog since it's launched so you can see just how well that has grown.
So today I'd like to take you through exactly what I did step by step to achieve that.
How I set up the blog to extract value and I'm going to put a lot of focus onto this to explain what value truly means and how to get as much of it as possible.
How I went about creating and promoting my content, it's really simple.
And most importantly, how you can do the same.
So first of all, let's take a look at why I started the blog in the first place. Most importantly, I love marketing and the Internet. I grew up on the Internet from a very early age.
I was writing games reviews and things like that from when I was about 13 years old built my first website was before Youtube existed.
I have a wealth of knowledge to share as I've sort of you know, grown up through the Internet and been successful in the corporate world as well as the affiliate marketing. I've got a lot of unique angles and viewpoints on things.
And really, there's only a handful of Internet marketing blogs that publish quality posts. A few years we had some really great blogs around but they seem to have dwindled off.
And there's also a lot of misinformation around and poor advice that you see in the re-hashed guest posts. Just the same stuff in a different wrapper over and over again.
So that's why I started the blog. But what a lot of people don't really do when they start their site is they don't develop a blog site or it's purpose. What is the purpose of the site.
So you might want to think what is the point of your site, what you want it to offer, what you want other people to say about it and I spent a bit of time thinking about this when I started my blog and I decided to define my blog's purpose to be as when people ask for help on a forum, my tutorials will be shared to help.
And that challenges me on a different number of fronts.
It means that I need it to get my content up to a standard where people will want to share it and it will actually make people want to suggest it to be helpful so it put a lot of pressure on making the content good but I also had to get involved with a community and get engaged with people so people knew about it to share on a forum.
https://www.jfl-media.com/en/wp-content/uploads/2018/09/itRV02.jpg
180
320
Christian Bourassa
https://www.jfl-media.com/en/wp-content/uploads/2018/12/training-adobe-corporate-media.png
Christian Bourassa
2018-09-20 17:28:15
2018-09-20 17:28:15
Matthew Woodward Boston SEO Live Conference