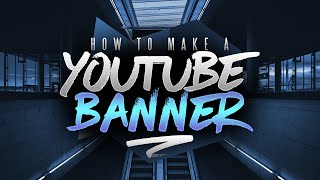 How to Make a YouTube Banner in Photoshop! Channel Art Tutorial (2016/2017)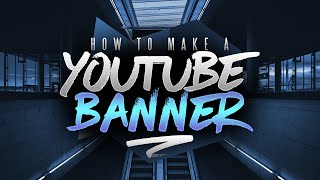 Learn how to make a YouTube banner/channel art for your channel using Photoshop CS5/CS6/CC! This is an easy, simple tutorial for beginners who want to make a clean, custom and epic looking CUSTOM banner! This video teaches how you can personalize it by adding your own wallpapers, text, and social media links!
CLEAN 2D Logo & Banner Tutorial: http://youtu.be/ZZqAry0EF9o
FREE YouTube Banner Template: https://www.steven-van.com/products/youtube-bannerchannel-art-photoshop-template
Get your Graphic Stock 7-Day Trial! http://gstock.co/x/Steven_0216
Photoshop Beginners Guide → http://youtu.be/oCZuy8fis28
Graphic Stock → https://fbit.co/1dc4
NexaLight & NexaBold → http://bit.ly/20ON2l9
YouTube Banner Template → http://bit.ly/1OpJwZt
Having a YouTube channel banner is NESSECARY when starting your YouTube channel. It adds a sense of branding to your channel and videos and reminds the viewer/subscriber whose channel their on. Also, any viewers who come pass your channel are more likely to SUBSCRIBE if you look like a professional looking channel.
FotoJet Banner Tutorial
→ https://www.youtube.com/watch?v=b46rA…
Panzoid Banner Tutorial
→ https://www.youtube.com/watch?v=NLjRj…
Photoshop CS6/CC Banner Tutorial
→ https://www.youtube.com/watch?v=gOB5U…
FTC: Sponsored by Graphicstock. I only recommend products or services I use personally and believe will be good for my viewers. I am disclosing this in accordance with the Federal Trade Commission guidelines concerning the use of endorsements and testimonials in advertising.
My YouTube Gear
Panasonic Lumix G7 Body: http://amzn.to/2dWAOuk
Lumix G 25mm f/1.7 Lens: http://amzn.to/2egwe8G
Rode PSA1 Microphone Boom Arm : http://amzn.to/2foJQkC
Logitech MX Master Mouse: http://amzn.to/2f6WQs2
Rode NT-USB Microphone: http://amzn.to/2foLnHu
Logitech C920 Webcam: http://amzn.to/2fyzMox
LG 25UM58-P UltraWide Monitor: http://amzn.to/2e7HMro
Neweer 700W Lighting Kit: http://amzn.to/2f38c2f
HAVIT HV-KB380L Keyboard: http://amzn.to/2egBl8W
Magnus VT-300 Fluid-Head Tripod: http://amzn.to/2eVTsPy
Logitech z150 Multimedia Speakers: http://amzn.to/2f33MIy
LIFX 1000 Smart Light Bulb: http://amzn.to/2fbiuJL
Get paid to do what you love; making content.
sign up here → http://bit.ly/JoinScaleLab
Grow Your YouTube Channel
https://www.tubebuddy.com/Steven
Twitter: https://www.twitter.com/@stevenvan_
Facebook: https://www.facebook.com/stevenvanYT
Instagram: https://www.instagram.com/stevenvan_
Twitch: http://www.twitch.tv/stevenvanYT
Background Song → http://bit.ly/1GLGQ9M
Intro Designer → http://bit.ly/1RBUiiT
Intro Song → http://bit.ly/1PFfHG7
-~-~~-~~~-~~-~-
Portrait Photoshoot in An Alleyway (ft. Kalyn Nicholson)
-~-~~-~~~-~~-~-
https://www.jfl-media.com/en/wp-content/uploads/2018/08/qWMqtz.jpg
180
320
Barbara C
https://www.jfl-media.com/en/wp-content/uploads/2018/12/training-adobe-corporate-media.png
Barbara C
2018-08-11 06:10:16
2018-08-11 06:10:16
How to Make a YouTube Banner in Photoshop! Channel Art Tutorial (2016/2017)