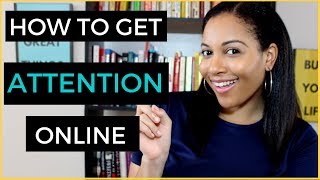 How to Get Attention and Get Noticed Online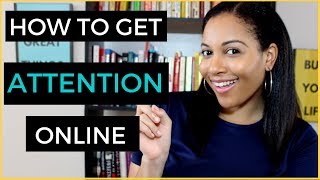 How to Get Attention and Get Noticed Online****Make sure to grab your FREE social media content Guide to help you get started on creating lots of amazing content online! http://bit.ly/2P5GBfN
#getattentiononline #getnoticed
Be sure to SUBSCRIBE to my channel for more awesome videos: http://bit.ly/2P5GBfN
***RESOURCES MENTIONED IN VIDEO***
SMARTERQUEUE: Get 30 FREE days with social media scheduling tool Smarterqueue – http://bit.ly/2J5ueNb
SITEGROUND – Affordable WordPress domain + hosting. Get a special discount if you use this link – https://www.siteground.com/go/nadine
THEMEFOREST – For great WordPress themes, graphics, and more! http://bit.ly/2OCv5s9
WORDPRESS – Set up your website with wordpress.org – https://wordpress.org
QUESTION – Have a question about online business, personal branding, marketing, video, creative entrepreneurship, or anything else? Post in the comments section of this video! Also, let me know of any topics you would like me to make a video of in the comments section using the hashtag #brandbuilder
WEEKLY LIVE STREAMS – I do weekly live streams on both Facebook and Instagram on these pages. http://fb.com/itsnadineliverpool AND http://instagram.com/nadineliverpool
Oh yea, follow me here too!
http://instagram.com/nadineliverpool
http://facebook.com/itsnadineliverpool
Tweets by nadineliverpool
http://pinterest.com/nadineliverpool
DISCLAIMER: This video and description contains affiliate links, which means that if you click on one of the product links, I'll receive a small commission at no extra cost to you. This help supports the channel and allows us to continue to make videos like this. Thank you for the support!
ABOUT THIS VIDEO
Want to know how to get attention and get noticed online? Well, in this video I share five tips on how to get attention and get noticed on social media so you can build your brand online.
https://www.jfl-media.com/en/wp-content/uploads/2018/08/BhSbB1.jpg
180
320
Barbara C
https://www.jfl-media.com/en/wp-content/uploads/2018/12/training-adobe-corporate-media.png
Barbara C
2018-08-14 06:31:14
2018-08-14 06:31:14
How to Get Attention and Get Noticed Online