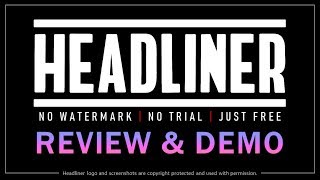 Headliner Review & Demo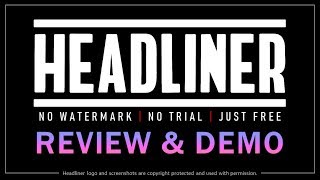 This is a video Review on Headliner, a cloud-based video creation software which is free to use. With Headliner you can create unique Audiograms which are videos with an image or video background, animated text (or captions) and animated waveforms. You can also create other types of video for social media with this video creator.
Headliner is completely free to use (at least at the time of recording this video). You will need to sign up for a free Headliner account in order to use it because it's a cloud-based video creation tool. Overall, I like the simplistic user-interface and clean look & feel of this video app. In order to create videos with Headliner, you can use the video creation wizards that guide you step-by-step.
Alternatively, you can use the Blank Project which take you directly to the video editor where you can create your videos from scratch. I mostly use the Audiogram wizard and the Blank Project. When using the Audiogram wizard, you're limited to 10 minutes of audio/video. However, if you want longer videos, you can use the Blank Project or the Full Episode wizard.
The video editor has several sections like you would in other video editors, however, it's quite simplistic. You have the preview section where you can preview your video project. You have a Captions and Media section where you can edit captions and add media like images and video to your project. And down below, is the timeline which has 4 tracks: 2 text tracks, 1 media track and 1 audio track.
Headliner has a built-in API integration with several image sources like Getty Images, Google and Microsoft Images, Pixabay, and Stock Images. This provides you a lot of flexibility to use royalty-free images in your video projects. However, make sure to check the terms of use, especially for Getty Images that have usage restriction for commercial purposes.
You can create landscape, square and vertical videos in Headliner and render them in FULL HD 1080p resolution. You can also add an intro and outro to your video project if you wish, at the time of rendering your video. Headliner works best on Google Chrome (version 63 and above), Firefox (version 55 and above) and Safari (11 and above).
In terms of improvements, I found it a bit frustrating when editing the text using the text toolbar, but once you get familiar with it, it's all good. I found that the text transitions are a bit too fast and there is no way to control the speed of the animation. There are no UNDO and REDO buttons and these could be really helpful. Finally, if you want to replace an image in the timeline, you have to delete it and than add a new image. This means that you need to set the duration, timing, and animations again.
I've reported my suggestions to the Headliner team and hope they will consider my suggestions in future updates. Overall, I'm enjoying using this free video creation tool and creating audiograms. You can sign up for a free Headliner account via the link below. Aldo, I've created a video playlist where you will find Headliner Review and tutorials (check the link below).
– Headliner Free Signup: https://make.headliner.app/sign-up
– Headliner Review & Tutorials: http://bit.ly/HeadlinerTutorials
CREDITS: Headliner logo and screenshots are copyright protected, used with permission | Video backgrounds, images, graphics and animations are public domain via Pixabay or belong to author | Microsoft, Windows, and the Windows logo are trademarks, or registered trademarks of Microsoft Corporation in the United States and/or other countries | Other names may be trademarks of their respective owners.
Song Title: Soul Ballad by 7th Floor Tango by Silent Partner
Source: YouTube Audio Library (for use on monetized videos)
https://www.jfl-media.com/en/wp-content/uploads/2018/08/3JIYfU.jpg
180
320
Barbara C
http://www.jfl-media.com/en/wp-content/uploads/2018/12/training-adobe-corporate-media.png
Barbara C
2018-08-05 02:59:31
2018-08-05 02:59:31
Headliner Review & Demo