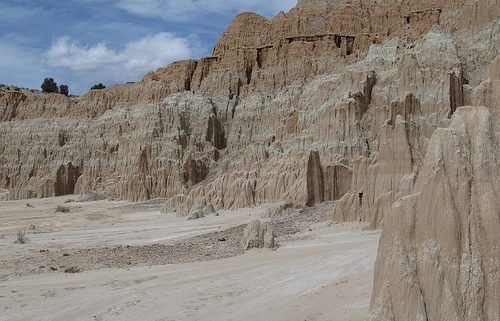 Cathedral Gorge State Park, Near Panaca, Nevada
Cathedral Gorge State Park is a state park of Nevada, USA, featuring a gorge eroded through soft bentonite clay. The park covers 1,608 acres (651 ha). It is located in Central/Eastern Nevada 1 mile (1.6 km) north of the intersection of U. S. Route 93 and State Route 319, near Panaca. Cathedral Gorge was established as one of the four original Nevada State Parks in 1935. The park sits at an elevation of 4,800 feet (1,500 m) above sea level, and is typically arid with semi-hot summers, and very cold winters. In the summer, temperatures usually range from 95 °F (35 °C) in midday to roughly 55 °F (13 °C) at night. Rainfall is variable, and thunderstorms are prevalent.
A majority of Meadow Valley (which lies along U. S. Route 93 from the towns of Caliente to Panaca) was covered by a freshwater lake nearly 1 million years ago during the Pliocene Era. The richly colored canyons of Cathedral Gorge (called the Panaca Formation) are remnants of this ancient lakebed. Over centuries, the lake began to gradually drain. Erosion began working away at the exposed portions of sediment and gravel that once composed the lake bottom. Rainwater and melting snow carved rivulets in the soft siltstone and clay shale, splitting tiny cracks and fissures into larger and larger gullies and canyons.
en.wikipedia.org/wiki/Cathedral_Gorge_State_Park
en.wikipedia.org/wiki/Wikipedia:Text_of_Creative_Commons_…
By Ken Lund on 2013-04-13 01:43:01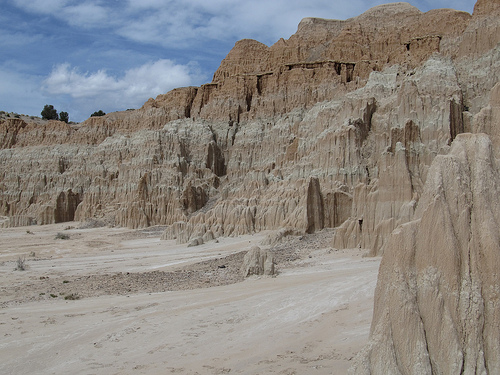 https://www.jfl-media.com/en/wp-content/uploads/2018/08/cDT4Qm.jpg
375
500
Jean-Francois Labrosse
https://www.jfl-media.com/en/wp-content/uploads/2018/12/training-adobe-corporate-media.png
Jean-Francois Labrosse
2018-08-29 20:10:23
2018-08-29 20:10:23
Cathedral Gorge State Park, Near Panaca, Nevada