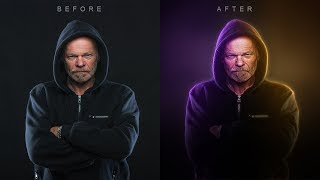 Boring to Awesome – Portrait Dual Lighting Effect with Glowing Edges in Photoshop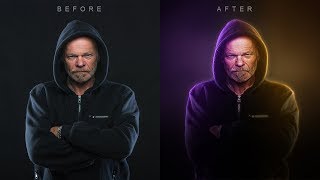 In this photoshop manipulation tutorial, learn how to create amazing dual color tone lighting portrait effect using realistic inner and outer glow in photoshop. ►Download PSD file: http://photoshopdesire.com/create-dual-color-portrait-lighting-glowing-effect-photoshop/ ►Download Photo to practice: https://www.flickr.com/photos/psdesire/24135154298
Step:1)
Select the main subject that you want to add the effect and cutout.
If your subject is more complicated to make a selection then i suggest you to use refine edge or select and mask tool.
Now apply gaussian blur and glowing edges filters to the layer.
Step:2)
Create right hand side lighting using gradient fill and also add light color and soft lighting using solid color adjustment.
Change color fill layer blending to multiply and soft color lighting to soft light. It gives shining diffused spotlight style to the image.
Step:3)
Repeat step 2 on the left hand side as well, or simply duplicate right side light layers and change the direction.
Step:4)
Now group all layer except the original background, CTRL + G keyboard shortcut and name it "Dual color lighing".
We finished the most complicated part. Now lets focus on additional elements like sharpness, inner glow and outer glow.
Step:5)
Increase contrast
Step:6)
Enhance the details with high pass filter and change blending to hard light.
Step:7)
To achieve realistic look, i will also add inner and outer glow lighting to the edges.
Add any solid color adjustment and reduce fill to zero.
Select inner glow layer style. keep structure , elements and quality as shown in above video.
Similarly add outer glow as well.
Step:8)
Add vignette effect to draw viewer attention to the center of the frame.
Step:9)
Create background with texture (using clouds filter) and some noise.
Place background group above original background layer and add layer mask (cutout Selction).
Step:10)
All the layers are editable, so we can go to any settings any time and tweak the layers to your liking.
For example if we want to minimize the outer glow, simply click on layer style option and lower its opacity.
If you want to change the colors of the lights, then open dual color lighting group.
Double click on light color fill thumbnail and select colors of your liking.
we need to change soft color light gradient fill also to the same color.
That's it. We're done.
Portrait Lighting Patterns Every Photographer Should Know.
Amazing Portrait Lighting Styles – Digital Photography.
Best Creative Portrait lighting idea.
Split Lighting Color & Profile Lighting tips and tricks.
HOW TO Easily Turn Your Photos From Boring To AWESOME.
►Check out all tutorial here : https://www.youtube.com/photoshopdesiretv/videos
Thanks for watching our free Tutorials! If you enjoyed our video be sure to subscribe to our channel to receive free new videos.
►SUBSCRIBE: https://goo.gl/d31fld
Don't forget to COMMENT, LIKE and SHARE, to get more :)
Follow US – LET'S BE FRIENDS!
——————————————
►Official Website: http://www.photoshopdesire.com
►FACEBOOK : http://www.facebook.com/photoshopdesire
►GOOGLE+ : https://plus.google.com/+photoshopdesiretv
►Twitter : https://twitter.com/PSDesire
►Instagram: https://www.instagram.com/photoshopdesire
Softwares Used:
—————————-
Photoshop cc 2014, 2015, 2017
Photoshop cs5, cs6,
After Effects cs5
Camtasia Studio
Music:
————
Montauk Point (YouTube Library)
Check Out Our Playlists:
————————————–
Photoshop Tutorials for Beginners, Intermediate and Advanced users
Easy, Quick and Fast Photoshop Tutorial Series (NEW)
HDR Photography Using Photoshop
Photo Editing, Photo Effects & Photo Manipulation – Special FX
Adobe Camera Raw Filter Tutorials and Preset downloads
(same settings steps for lightroom also)
Color Grading or Coloring in Photoshop
Skin, Face & Body Retouching Techniques and Enhancing Tips
Free Photoshop Actions for Photographers and Designers
Text and Graphics Effects in Photoshop
https://www.youtube.com/playlist?list=PLGLEKqTDn233zMfRfoFl-ZwIzzUmf9UDu
https://www.jfl-media.com/en/wp-content/uploads/2018/12/lvhje9.jpg
180
320
Christian Bourassa
http://www.jfl-media.com/en/wp-content/uploads/2018/12/training-adobe-corporate-media.png
Christian Bourassa
2018-12-24 18:17:10
2018-12-24 18:17:10
Boring to Awesome - Portrait Dual Lighting Effect with Glowing Edges in Photoshop