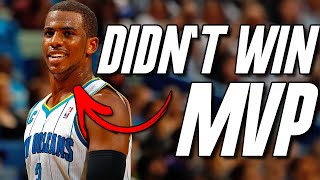 5 MORE of the Greatest NBA Seasons that DIDN'T Win MVP (Pt. 2)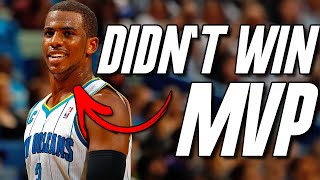 5 of the Greatest Seasons that DIDN'T Win MVP (Pt. 2). In this video I talk about more players who had tremendous NBA seasons that just weren't good enough to win MVP. A lot of great plays and highlights and stats throughout the years that go under the radar.
Let's Keep It A Buck Podcast: https://audioboom.com/channels/4964019
2nd Channel: https://www.youtube.com/user/TheGameizzonn?pbjreload=10
What's good Youtube, it's ya main man Bsolz back at it with another video. So in my last video I talked about 5 of the best seasons that didn't result in an MVP and I got many comments about players that I didn't talk about, so in this video I will talk about 6 more players, yes 6, that fit the same criteria. Just a disclaimer, these videos are not "who got robbed of an MVP" videos, they are simply highlighting seasons that simply were amazon that didn't result in such. For example, I wholeheartedly believe that Nash deserved the 2006 MVP, but I'm just saying Kobe's season was still a historically great season. Make sure to Like, Comment and Subscribe for more gameplay!
This channel is officially partnered with NBA Playmakers. NBA Playmakers is the online video network for YouTube creators covering all corners of basketball. From the hallowed grounds of Rucker Park to the rafters of the Staples Center, from kicks reviews to trick shot compilations, it's a fusion of ball culture, style, and attitude through video.
NBA Playmakers launches you into a worldwide basketball community for content creators, backed by the NBA and powered by BBTV – the number one multi-platform network on the planet.
Capture it or consume it, run the game with NBA Playmakers.
– – – – – – – – – – – – – – – – – – – – – – – – – – – – – – – – – – – – – – – – – – – – – – – – – – – – – – – – –
LINKS:
Click Here (http://nbaplaymakers.tv/) to sign up
Article about NBA Playmakers (http://www.theverge.com/2016/5/17/11689964/nba-playmakers-network-broadbandtv-youtube-videos)
– – – – – – – – – – – – – – – – – – – – – – – – – – – – – – – – – – – – – – – – – – – – – – – – – – – – – – – – –
Music possibly used in video:
Music from (https://youtube.epidemicsound.com)
Shoutout to FahadFilms for making my intro:
https://www.youtube.com/channel/UCFUYah7nBjlgtx3xtKhNetA
https://www.instagram.com/fahadfilms/
J Cole Type Beat: https://www.youtube.com/watch?v=iHGi2AlprqY
Kanye Type Beat: https://www.youtube.com/watch?v=1sjWFxSYHcM
– – – – – – – – – – – – – – – – – – – – – – – – – – – – – – – – – – – – – – – – – – – – – – – – – – – – – – – – –
Follow me on my social media accounts:
IG: instagram.com/bsolz
Twitter: twitter.com/theBSOLZ
Snapchat: bryan249solis
Steam: bsolz121813
https://www.jfl-media.com/en/wp-content/uploads/2018/08/wHQtsJ.jpg
180
320
Barbara C
https://www.jfl-media.com/en/wp-content/uploads/2018/12/training-adobe-corporate-media.png
Barbara C
2018-08-16 12:46:36
2018-08-16 12:46:36
5 MORE of the Greatest NBA Seasons that DIDN'T Win MVP (Pt. 2)