Adobe Acrobat pro course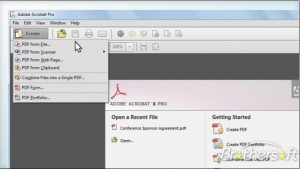 Brief description
The software Adobe Acrobat was designed to generate faithful to the original and interactive PDF files. It allows the use of tools for sharing information and annotations in electronic files.

Objective
This course will allow students to simplify the creation, editing and sharing of reliable and secure PDF documents.
Contents
. Set Acrobat Standard and Pro, as well as Adobe Reader
. Browse, print and search the contents of PDF files
. The compression
. The fonts
. The toolbar
. The menus
. Hypertext links
. Pins
. Create custom job options
. Create PDF files from web or paper format
. Edit text and images
. Expand, section, delete or change pages
. Add watermarks and footers or headers
. Work with a file containing layers
. Create interactive files
. Use commenting tools
. Submit, manage and track reviews
. Arbitrate PDF files
. Facilitate accessibility
. Work with security settings and digital signatures
. Add sound and video
. Prepare presentations
. Create portfolios
This course on Adobe Acrobat is based on a personalized and practical approach that takes into consideration your achievements, your skills, your project and what you want to learn.