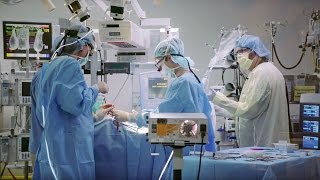 Simulator Program & Fractured FX partnership | Boston Children's Hospital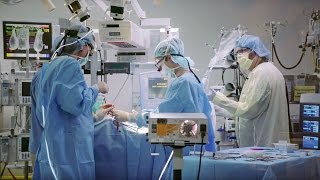 Learn more: http://vector.childrenshospital.org/2015/11/hollywood-sfx-take-medical-training-to-a-new-level-of-realism/
When critical care physicians at Boston Children's Hospital practice cannulating an infant going on cardiopulmonary support, they'll no longer have to cut through hard plastic mannequins with tubes for blood vessels. Instead, they'll puncture a soft layer of realistic baby skin, dissect through subcutaneous fat and spread muscles that look and feel like the real thing.
They'll insert the cannula into an internal jugular vein and carotid artery that are thin and flexible, after dissecting through their covering sheath. As they advance the cannula, the blood will have the right viscosity.
These mannequins are not your father's Resusci-Anne. They're the creation of the special make-up effects company Fractured FX, whose current credits include Cinemax's The Knick, and Boston Children's simulator program, SIMPeds.
The process of building a simulator begins with detailed drawings and a three-way knowledge exchange between the artists at Fractured FX, hospital clinicians and SIMPeds experts in engineering, design and 3D printing. The Fractured FX team then starts experimenting with materials to simulate the look and feel of real body tissues—including bone, connective tissue, membranes around organs and even tumors, some of which are hard and rubbery, others very soft.
As the clinicians tinker with simulator prototypes, their live comments are recorded on video and shared with the Fractured FX team. "Then we iterate," says Melissa Burke, SIMPeds director of operations.
Once the team achieves the right look and feel, the next steps are assembly and the final product. The simulators include inserts of the relevant anatomy that can be replaced when another clinician needs to train. "In the end, you'd be hard pressed to tell which images are real, and which the model," says Burke.
"It's been a really nice back and forth working with actual surgeons and getting their input and knowledge," says Raleigh. "We've been getting a crash course in surgery, and the SIMPeds engineers have come to our studio to learn about manufacturing techniques and how we process materials and make molds. It's been very educational in both directions."
The ECMO and ETV simulators make their public debut at Boston Children's Global Pediatric Innovation Summit + Awards. Boston Children's hopes to begin offering the simulators commercially to other medical centers over the coming year, with Fractured FX handling the manufacturing.
https://www.jfl-media.com/en/wp-content/uploads/2018/07/113omW.jpg
180
320
Christian Bourassa
https://www.jfl-media.com/en/wp-content/uploads/2018/12/training-adobe-corporate-media.png
Christian Bourassa
2018-07-19 23:58:32
2018-07-19 23:58:32
Simulator Program & Fractured FX partnership | Boston Children's Hospital