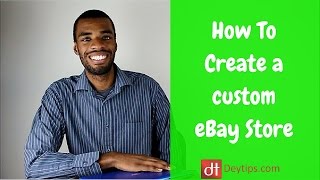 eBay Store Design Tutorial | How To Create Custom Graphics for an eBay Store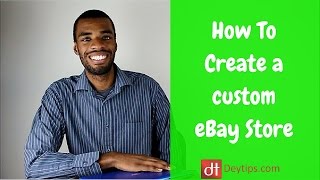 Click here to discover how to drive sales to your products or services online with one simple formula: http://www.deytips.com/theformula
Learn more about the formula here:
https://www.youtube.com/watch?v=fGnsAwEB7OM –~–
For more business tips visit: http//ww.deytips.com
website i used in video: http://www.canva.com
In this video I demonstrate how to create an eBay store design from scratch in just a few minutes. It is not as difficult as you may think creating custom graphics for your eBay store, as a matter of fact, you do not need to be a graphic designer, have any experience in graphics or have a large budget to get professionally looking graphics and designs for your eBay store. This video explains how you can design your eBay store yourself for free as well as how to hire someone to create a custom eBay store design on your behalf relatively inexpensively. I speak about how to create your own ebay custom header and custom logo.
Dimensions for an eBay boarder = 1200 x 270
dimensions for ebay store logo = 300 x 300 or 150 x 150
To create an ebay store design yourself you can use http//www.canva.com
To outsource your ebay store design work check out these websites:
http:www.fiverr.com and https://www.freelancer.com/
I hope this video helps you out.
Connect with me on social media:
Subscribe:
Facebook:
http://www.deytips.com/facebookpage
Twitter:
Tweets by Deytips
Pinterest:
https://uk.pinterest.com/deytips/
Google plus:
http://www.deytips.com/googleplus
Udemy:
https://www.udemy.com/u/sarmaddey/
LinkedIn:
http://www.deytips.com/linkedin
Share this video:
Business email:
Sam@deytips.com
Sam Dey
http://www.jfl-media.com/en/wp-content/uploads/2018/07/XJhr5P.jpg
180
320
Barbara C
http://www.jfl-media.com/en/wp-content/uploads/2018/12/training-adobe-corporate-media.png
Barbara C
2018-07-01 00:01:07
2018-07-01 00:01:07
eBay Store Design Tutorial | How To Create Custom Graphics for an eBay Store